Steve and Linda Dashew have been sailing together for 40+ years. They courted on small racing catamarans in the 1960s. In 1975 they moved up to a 50-foot monohull for what was supposed to be a one-year cruise through the South Pacific. As sometimes happens, plans changed, and it was six years before they came back to land. During their circumnavigation Steve and Linda home-schooled their two young daughters, built several advanced cruising yachts that became the foundation for a successful design and construction business, and wrote the first of eight books about life aboard and ocean seamanship.
In the past 25 years, over fifty of their yachts (Deerfoot, Sundeer, Beowulf, and now the FPB series) have been launched. They have cruised more than 250,000 miles. Their current yacht, Wind Horse, is a groundbreaking 83-foot (25m) ocean-crossing motor yacht in which they have logged 37,000 miles in four years.
More than 250 of their articles have appeared in magazines around the world.
They blog for SetSail about their experiences cruising aboard Wind Horse. Check back frequently to join in on their latest adventures, and browse through the archives for previous SetSail articles from the past decade.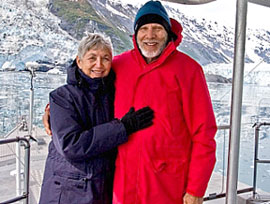 Posted by Sarah.Dashew (April 25, 2006)