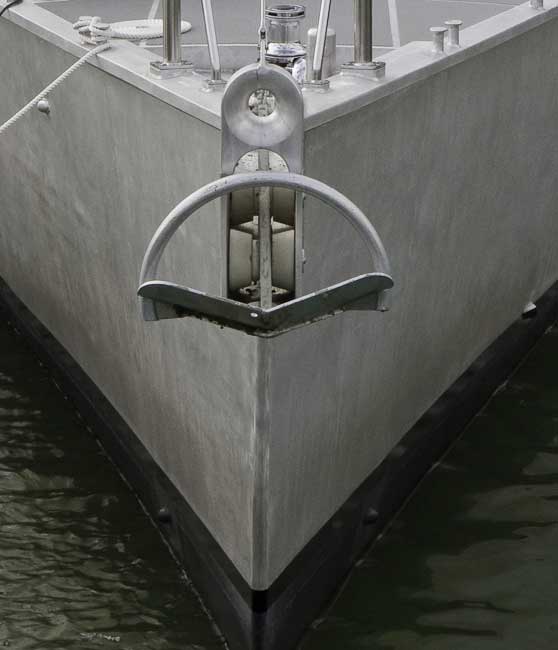 Years ago we learned that there had to be a place onboard for ground tackle, sails, fenders, dock lines, awnings, etc.
Because whether you allowed space for it or not, if the boat was going cruising, this gear was coming along.
That's why from the first of our designs in the late 1970s we made the forward portion of the canoe body off limits to the interior, setting it aside for ship's gear.
This approach keeps the smell of this gear isolated, and the forward water tight bulkhead is an added factor of safety.
On the FPB 64 the forward 15+ feet (4.7m) of the canoe body is devoted to general storage.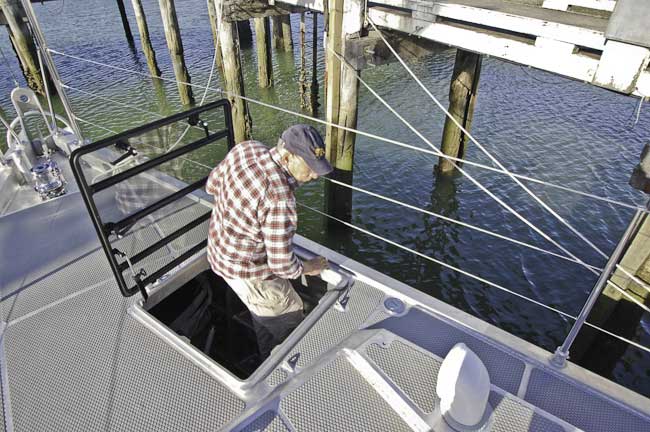 Entry is via a 36″/90cm hatch..
If there are no sails, why all the room? We can tell you now that you will be using this space. Consider what we carry up here aboard Wind Horse.
325 feet of primary chain rode

Two medium sized ball fenders

Four conventional fenders

Three sets of dinghy oars

800 feet 1/2″ Vectran for towing, warping, use with drogues

250 feet 1/2″ Vectran for warping

1000 feet assorted miscellaneous lines

30 amp 115VAC 50 foot power cord

50 amp 230VAC 50 foot power cord

Assorted spare hose for boat's plumbing.

Two spare Fortress anchors

Two 25 foot sections of chain for spare anchors

Two "Roll Control" flopper stoppers for use at anchor.

Sailing dinghy rig, daggerboard, and rudder

Six extra life jackets (Coast Guard style)

Three adult life jackets for use in the dinghy

Two children's life jackets

Assorted other items which we cannot remember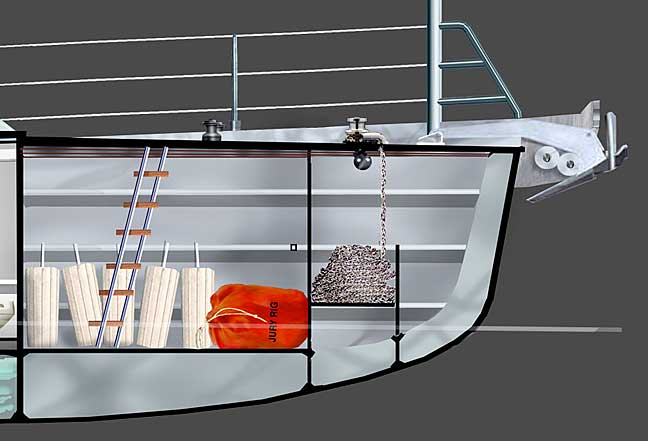 The point is, you need a place for this type of gear, where it can be stored on racks or tied in place, so it is easy to get at when you need it.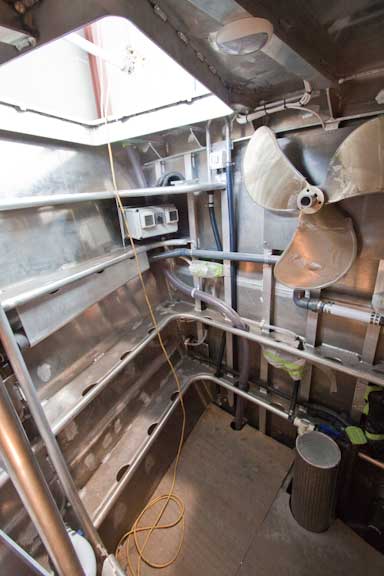 It is very difficult to photograph the forepeak so we are using a combination of drawings and photos to show it to you.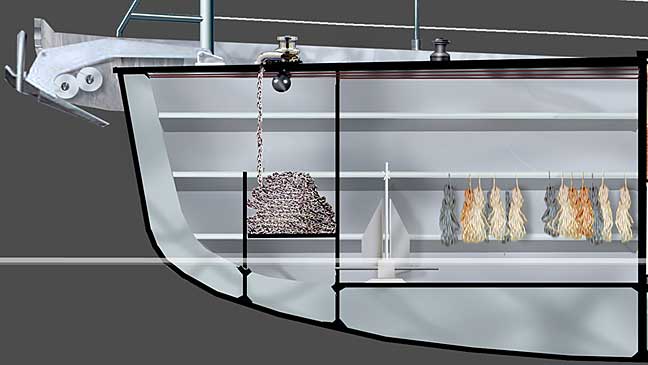 The FPB 64 has and three levels of pipes and topside stiffeners onto which gear can be tied. The photo above is looking aft from forward.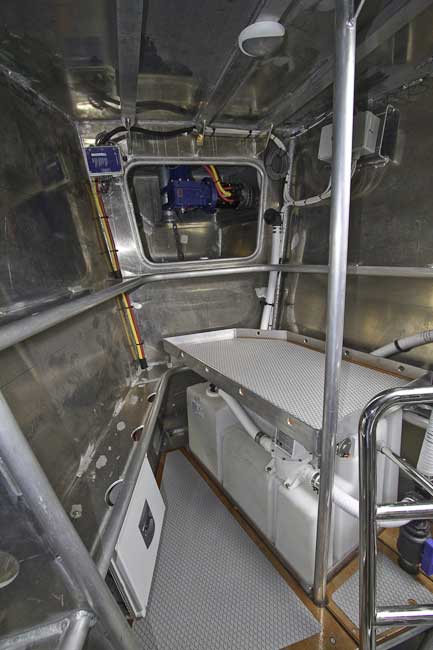 Here we are looking forward.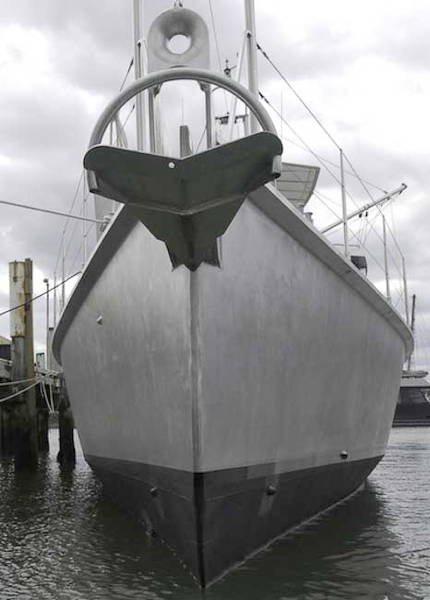 A word is probably in order on the primary ground tackle system. This starts with the same anchor that has worked so well on Wind Horse, the Rocna. We've found this to be the best all around hook we have ever used. We are utilizing the same size anchor, chain, chain stopper, and windlass as on the FPB 83, even though the loads on the FPB 64 are less.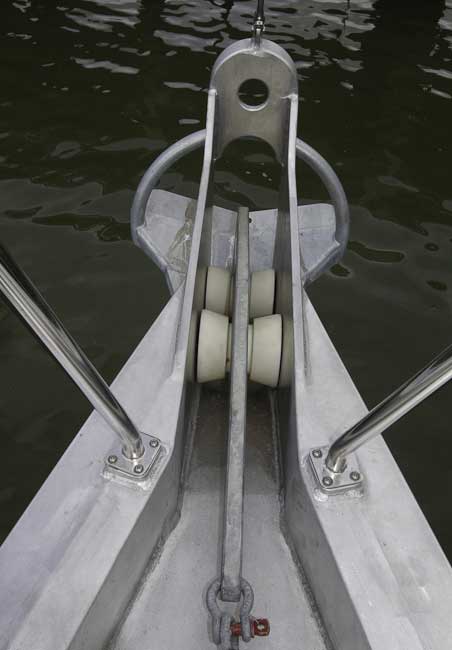 The FPB 64 will handle the weight and it provides just that much more safety factor in adverse anchoring conditions (we often anchor Wind Horse on 2-1 scope with this system). The dual UHMW rollers shown above are positioned so the anchor self launches.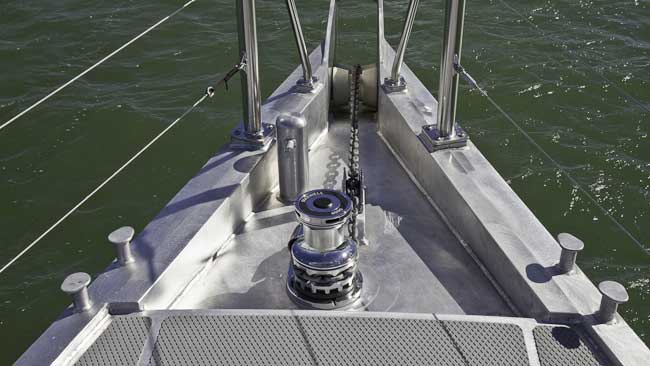 The anchor windlass sits in a recessed well, designed to contain mud and debris that may come aboard with the chain.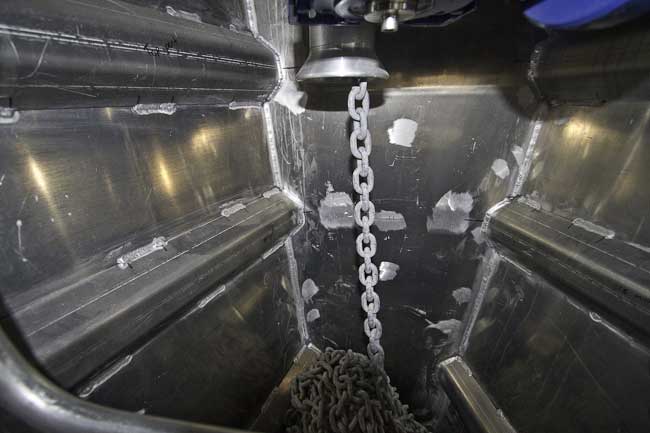 The chain sits in a self draining well, above the waterline. Any water which comes aboard down the chain pipe drains out, and this water, plus the occasional wave going by the bow, acts as a self cleaning system for the chain. The anchor roller design and the center of gravity of the anchor make this a totally self-launching system. The bow roller weldment itself is enormously strong, designed for banging into things and taking side loads.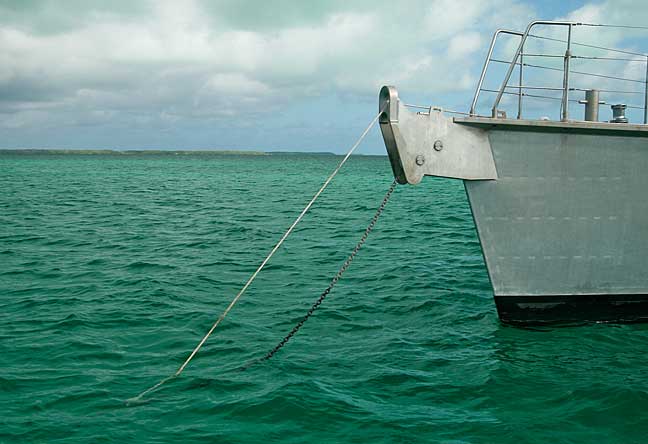 And if you are using a snubber line, or hove to behind a para anchor, there is a trumpet shaped fairlead at the forward edge to reduce chafe to a minimum, as shown on the FPB 83 above and below (she's anchored in Fanning Island about three degrees north latitude, south of Hawaii).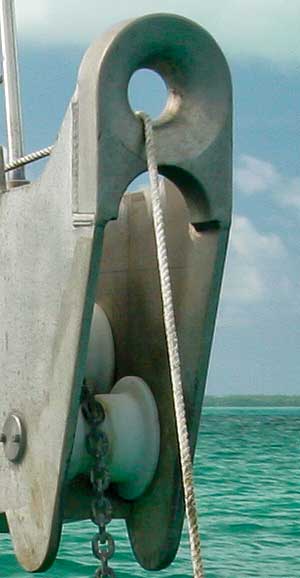 This close up will give you an idea of what a fairlead, and sufficiently strong anchor roller assembly, is supposed to look like.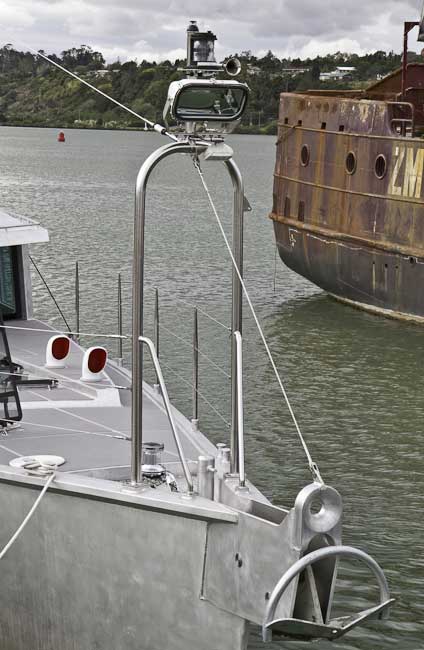 This photo shows detail on the forward "mast".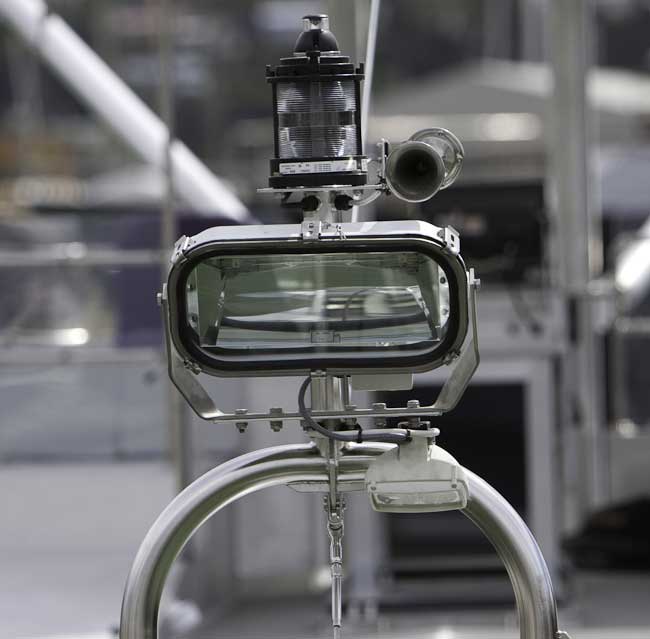 This contains a forward anchor light (there is one aft as well), forward deck light, and a 1000 watt halogen focused floodlight to illuminate the ocean ahead. We have found the latter quite handy for checking wave shape at night.
Finally, should you ever want to carry crew, or want to build a dorm for lots of grandkids, the forepeak is the place.
Posted by Steve Dashew (October 16, 2011)