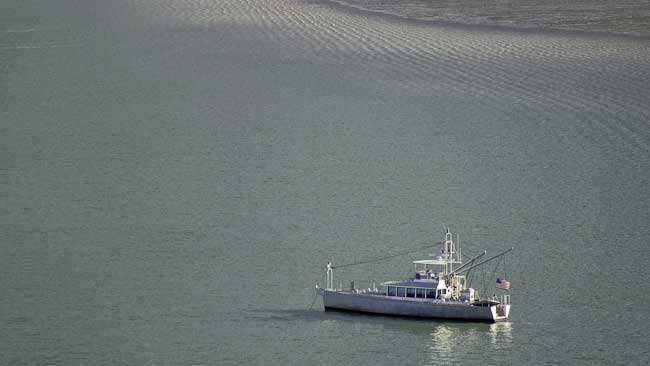 We've been involved with the design and construction of ultimate cruising yachts for almost three decades.
As wonderful of these yachts have been, with dozens and dozens of circumnavigations behind them, none of the boats we have done before offer the combination of cruising capabilities exhibited by the FPB 64. This is truly the Ultimate Cruising Machine.
She is as fast under power as our previous designs are in the trades under sail, more comfortable, easier to handle, with even more conservative scantlings, and better systems. In terms of storage space, room for dinghies and toys on deck, and range under power it is the equal of the FPB 83.
The FPB series may seem like a totally new design, but it is the result of a logical progression from our first sailing yachts. The design specifications for the FPB 83 came directly from what we were used to with our most comfortable and seaworthy sailboats. The FPB 64 is simply a refinement of the FPB 83 Wind Horse, which in turn is a refinement of designs like Beowulf, Sundeer, and Deerfoot.
Although we have covered in detail the various features in previous web pages, we thought a recap might be on order.
Safety and security: welded aluminum construction, five water tight compartments, double bottom, 15/32″/12mm bottom plate, enormously strong rub strake, 38″/950mm canoe body draft (4.5'/ 1.4m at skeg), 3/4″ /19mm windows.

Cruising speed and range: able to maintain nine to ten knots (216 to 240 miles per day) in virtually any conditions short of survival weather. 7400NM range at 8.5 knots including allowance for electrical and hydraulics. 5500+ miles at 9.7 knots based on sea trial data at full load.

Comfort at sea: the FPB 83 has raised the bar for seagoing comfort, and has been called a "new paradigm" in cruising comfort by every magazine editor who has been aboard. The FPB 64 has already shown herself to be equal in the conditions encountered so far. The FPB 64's performance will be similar in most beam seas, almost the same downwind (albeit the FPB 64 won't surf as easily), with slightly more motion uphill, but with less acceleration – the net effect of which will be a comparable comfort level.

Heavy weather capability: high average speed makes it possible to avoid most bad weather. There is excellent upwind and downwind control in adverse conditions. Watertight integrity during a knockdown, and ability to recover from a wave-induced capsize (better inverted stability curve than even our sailing designs).

Cruising grounds: set up with the best heating system available for high latitude cruising (with backup off engine/genset and from reverse cycle air conditioning). Quiet and efficient air conditioning for warmer climates, and an awning system which comes with boat. Insulation of hull and deck for heat, condensation, and noise. Shallow draft and the ability to "dry out" on a beach or tidal river opens a huge array of cruising options.

Interior: a layout which offers 360-degree views from galley, salon, bridge, and laundry room. Excellent sight lines close into the bow for the watch keeper (both seated and standing). Galley is as large as any we have ever done, with the best equipment we've ever fitted to a yacht. Wonderful personal storage with lots of hanging, drawer, and shelf space. Two really nice sleeping cabins, and heads, with the forward stateroom having a tub. Interior designed to contain your body at sea, with countertop and overhead hand rails throughout. Interior finishes designed to take wear and tear, minimize maintenance, and look good after years of cruising.

Deck Layout: Protected flying bridge for watch standing, entertaining, or just enjoying the surroundings. Excellent sight lines forward, aft, and abeam for maneuvering in tight quarters. Storage on the aft deck for a variety of dinghy types and sizes, with a system available on the house sides for kayaks and sailboards. Outdoor cooking facilities with sink, work space, and BarBQ in the lee of the house. Easy launching and retrieval of dinghies with boat booms (which are also used with highly effective "flopper stoppers" in rolly anchorages and as back up for the active stabilizers with stabilizer "fish".

Boat Handling: Huge rudder, hull shape, bare aluminum topsides and heavy rub rail combine to simplify handling in the tightest areas. A bow thruster is fitted, but is rarely needed.

Systems: Systems are an evolution of what has proven so successful for our sailing designs, adapted to the latest technology in inverters. DC based, stored energy in a large bank of "traction" batteries – the prime power source for most AC needs. Genset rarely required. Complete compliment of best in-home style appliances for washing, drying, induction stove top, speed oven, drawer style dish washer, central vacuum, trash compactor.

Engine and drive line: conservative, low speed engine, transmission, drive shaft, and prop. Get-home sail plan. Machinery noise and vibration minimal under way.
One of the keys to getting this performance package to work in a 65-foot (20m) hull is the use of welded aluminum construction. Aluminum offers not only high factors of safety from impact with debris and abrasion when aground, but it also allows a double bottom and very efficient tankage. The negative is cost. A welded aluminum structure is normally significantly more expensive than fiberglass.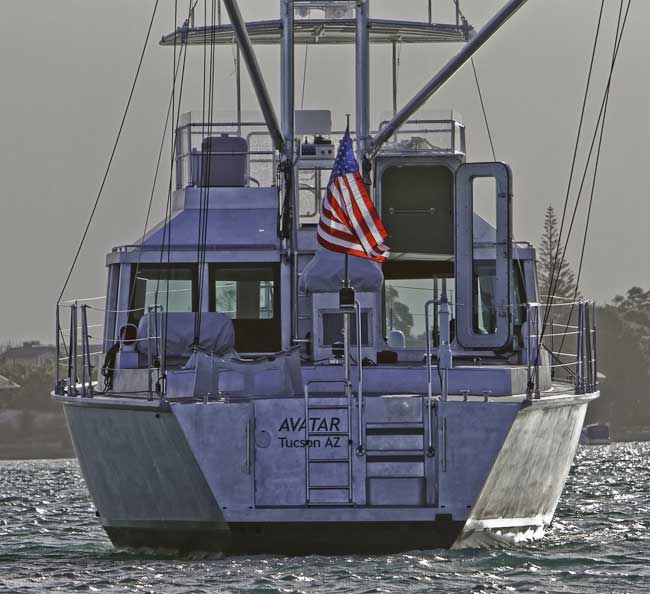 However, by working closely with our vendors in New Zealand (the same team with which we developed the FPB 83) we have come up with a method of efficiently building these yachts in series, as long as they are sufficient sisterships. This offers substantial benefits: The FPB 64 comes in at a competitive number to production fiberglass designs.
We are taking the same approach with this program as worked so well with our Sundeer Series. The FPB 64s come fully fitted out, including all systems, ground tackle, appliances, and complete spare parts, for long-term cruising. By having each yacht built to the same high specification you end up with the best quality systems, integrated into the boat in a consistent fashion, so that they are easy to maintain, and you know they are installed correctly from the beginning. Building in all the items which would normally be options saves money and commissioning time. When you take delivery, once through with your learning curve, you are ready to go cruising.
If you would like to learn more about schedule, specifications, and pricing for these cruising machines, drop an e-mail to Sue Grant: Sue.Grant@Berthon.Co.UK.
If you would like more information on the experience and philosophy which underlies our designs check out Offshore Cruising Encyclopedia and Surviving the Storm. There is also a DVD available on the FPB design process and sea-trials of the FPB 83.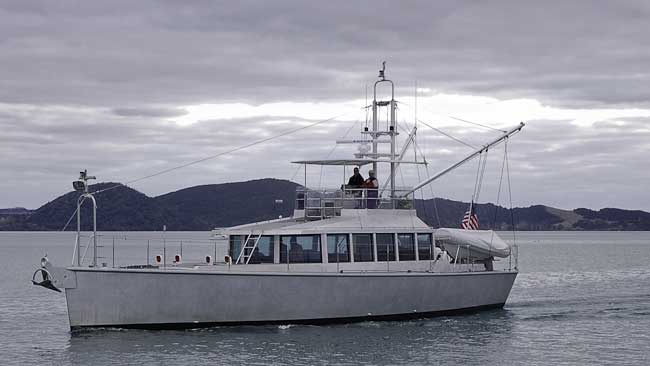 Posted by Steve Dashew (October 17, 2011)