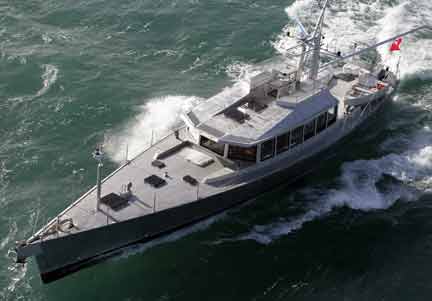 The process of developing the exterior design is never easy. There are numerous needs to be satisfied, from having a pleasant outside watch-standing station that is usable at sea, to a variety of options for entertaining on deck when at anchor, to dealing with rolly anchorages and the launch/retrieval of dinghies.
We also have to consider dinghy storage, working with drogues and para anchors in heavy weather, docking, and, of course, the appearance of the boat when we row away from her at anchor. The following is based on the FPB 83. The FPB 64 is similar in concept, just a little smaller, with a few different details. The flying bridge on the FPB 83 is a favorite place for watch standing and just enjoying the view at anchor.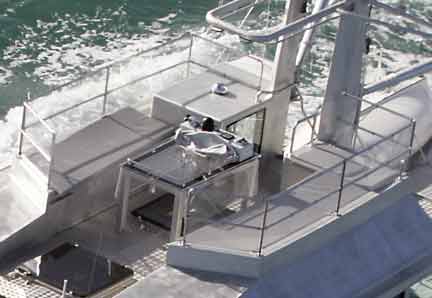 This area is protected by clear plastic "weather clothes" attached to the surrounding hand rails.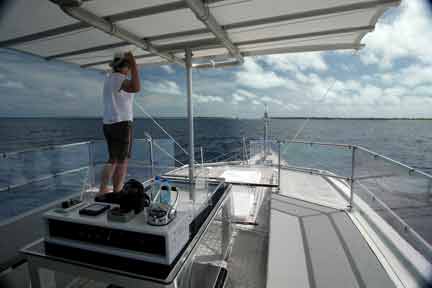 There are also a pair of large awnings, which attach to the frame shown, for protection in temperate and tropical areas.
Aft Deck Design Considerations
There are a series of factors at work at the back end of the boat, all of which have conflicting requirements. Not every design element can be perfect. There are going to be some compromises. The factors affecting design are:
Dinghy storage
Launching and retrieval of dinghies
Alternate energy needs (solar panels and windmills
Diesel heater exhaust
Handling booms
Stern light and stern anchor light
Access for stern lines
Handling of drogues in heavy weather
Using the boarding platform.
There's a lot going on back here!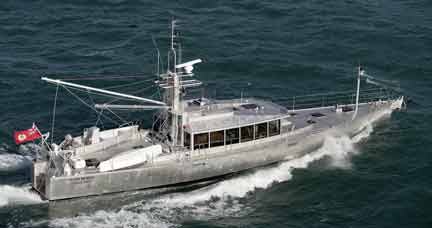 These images of Wind Horse give you an idea of the aft deck layout, with dinghies, solar panels, and booms in place, and how they relate to the rest of the boat.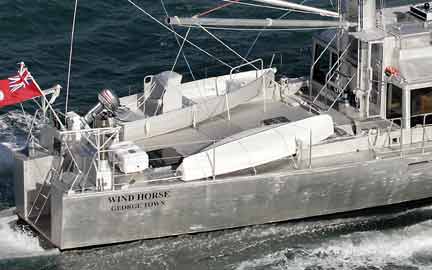 We've got room to store two dinghies. Shown here are a 15 foot (4.6m) aluminum dinghy and a 14 foot (4.3m) rowing dinghy.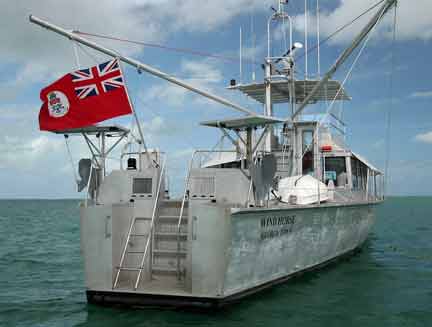 Those large booms are used for launching and retrieving the dinghies. They are also used for flopper stoppers at anchor and to deploy passive "fish" at sea should the active stabilizer system fail. We originally thought these might be hard to handle at sea, but what we have found is that the rigging system makes them very easy to swing outboard, or back aft, so we move them around a lot depending on wind angle and sea state while we are on passage.
Posted by Steve Dashew (January 11, 2012)