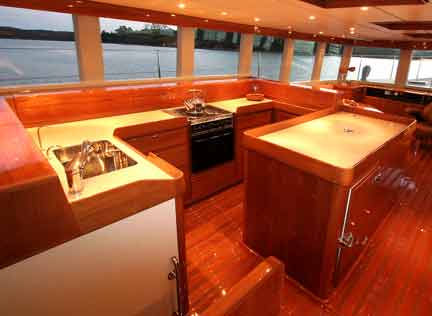 This is the first time we have not used a holding plate system in the fridge and freezer. We took this approach as on paper it appeared more efficient.
We are happy to report that the Frigoboat system, with its Danfoss DB50 compressors, evaporator plates, and keel cooler (inside a fresh water tank welded to the hull) works very well.
We have a separate system for each freezer (6 and 7 cubic feet/170L and 198L) and fridge (12 cubic feet/339L). In the tropics, with ambient temperature in the 84F (29C) range, we run on the slowest speed setting. This provides plenty of capacity to offset the ambient heat load, plus the multiple openings of the doors. When we loaded the freezers in New Zealand, at full speed we could freeze substantial quantities of meat and bread overnight.
While it is hard to make exact efficiency comparisons, our gut instinct is that these are at least as good as the best of our old holding plate systems, and possibly better.
A couple of other comments are in order. First, an evaporator plate system can be operated at almost any temperature (holding plates have to be run at close to their eutectic point). This means a freezer can be used as a fridge and visa-versa.
Right now we've got two of the boxes used for freezing and the larger box as fridge. But we will probably switch to two fridges and one freezer if we are closer to good sources of fruit, veggies, and meat.
With our metal boats we are in the habit of welding a fresh water tank to the hull, which is used for cooling the compressors. This works well, given the thermal efficiency of the aluminum hull. For fiberglass with the Frigoboat system you can use their "keel cooler". Both of these approaches gets rid of the cooling pump – one less thing to go wrong, and it is more efficient electrically.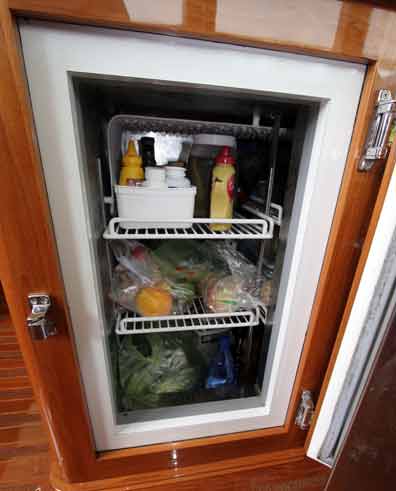 Here is a shot of the fridge. There are doors into each side. The shelves are adjustable. The evaporator plate can be seen at the top of the box. Note the spacing 3/4″ (19mm) between the plate and the box wall. This is required to allow air to circulate around the plate.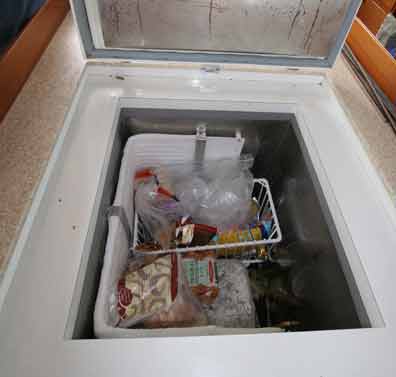 Here is a shot of the saloon-level freezer. The evaporator is vertical, in a "C" shape around the left of the photo perimeter. Same standoff between the plate and box wall. Freezers have baskets for organizing the contents.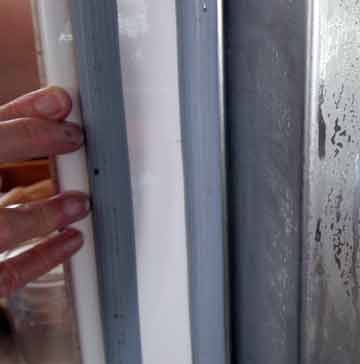 The freezers have dual door gaskets, while the fridge has a single gasket.
Overall, we have to say we are very pleased with the Frigoboat system, and will use something similar in the future. We cannot see any shortcomings in this approach.
Posted by Steve Dashew (October 20, 2011)