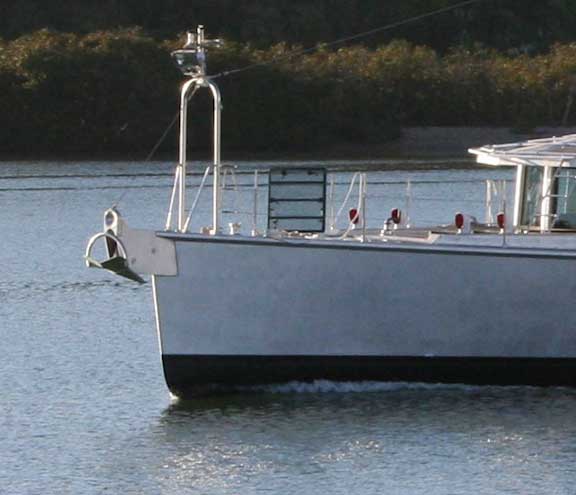 Although we have many tools with which to analyze design efficiency one of our favorites is looking at the bow and stern waves. This has to be done in the context of the design objectives, hull loading, and speed length ratio at which the hull is running.
These photos are from some initial runs with the FPB 64 in what we call "light ship" condition. She has just 1500 liters of fuel aboard, and almost no payload. She will never again be this light, so we want to collect performance data with which to check our VPP software.
The lead photo and that below are taken at a speed of about seven knots, or a speed length ratio (SLR) of .875. This is where most ocean crossing yachts and commercial ships operate on long ocean voyages as it is a very efficient SLR.
As you can see, the first FPB 64 is not making much fuss at the bow.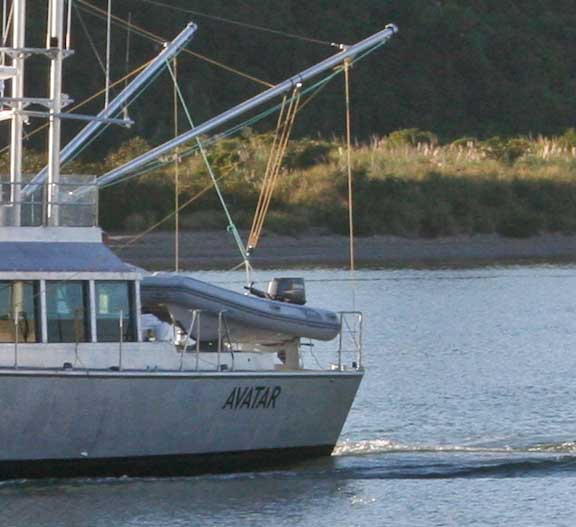 Or the stern a the same SLR. As expected, there is no discernable wake or quarter wave.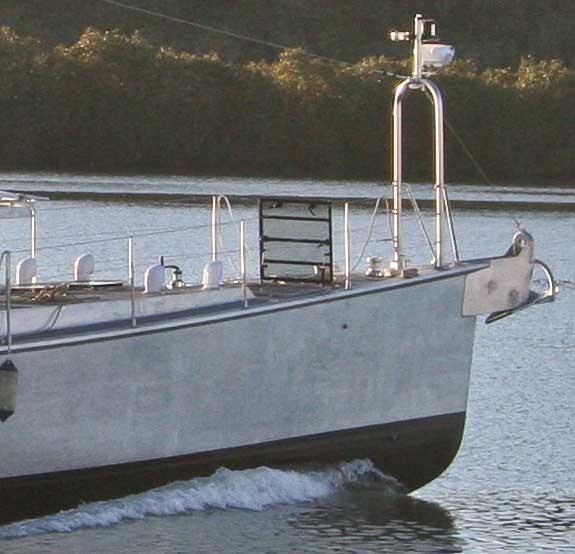 Now lets look at the bow wave at 10.5 knots or an SLR of 1.31. On many displacement yachts "hull speed" – which this is normally considered to be – would create a huge bow and stern wave and you would be stuck here in terms of speed.
Even though the FPB 64 is light here, she still weighs in at 29 tons/64,000 pounds, a lot of mass to move at an SLR above 1.3. The magnitude of the bow wave is quite moderate for this SLR, in line with what we expected.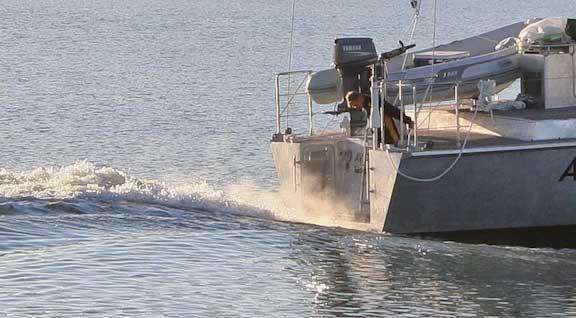 The stern is always the hardest part to get right. If you make it too full it creates steering problems and forces the bow down in head sea encounters. Make it too fine and the stern wave will crest at or ahead of the transom, increasing drag at higher SLRs (typically above one, or eight knots for this hull).
The FPB 64 has a very soft rear end, and will have a nice motion in a head sea. Yet, as you can see here, at a SLR of 1.3 the wake release is very clean, and well behind the boat.
Posted by Steve Dashew (March 19, 2010)