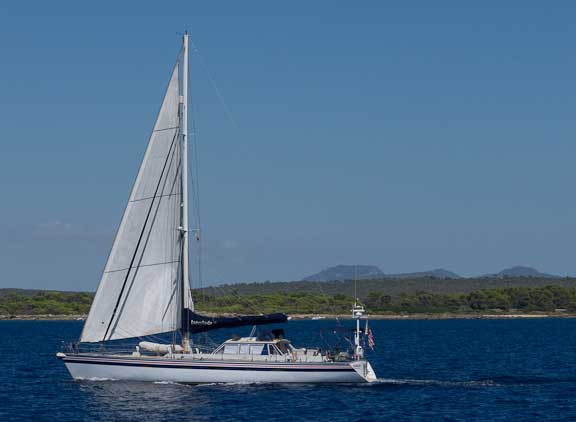 We  promised a few days ago more on this yacht.
Let's start at the beginning, with the hull shape. We are looking at a 36/40 ton 73 footer, motor sailing at 9.4 knots, or a speed length ratio of 1.15. Check out the bow and stern waves, which will tell you how hard her original 150HP Izusu diesel is working. Maybe that's why it  is still running smoothly after 10,000 hours.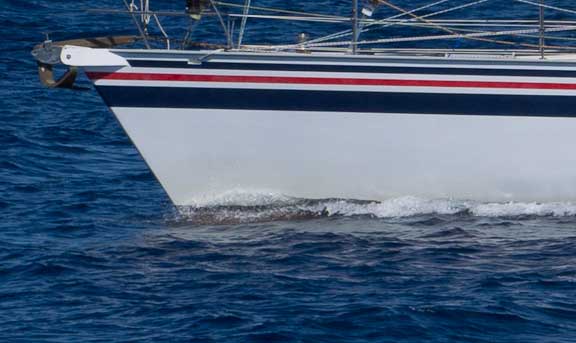 A close up of the bow wave.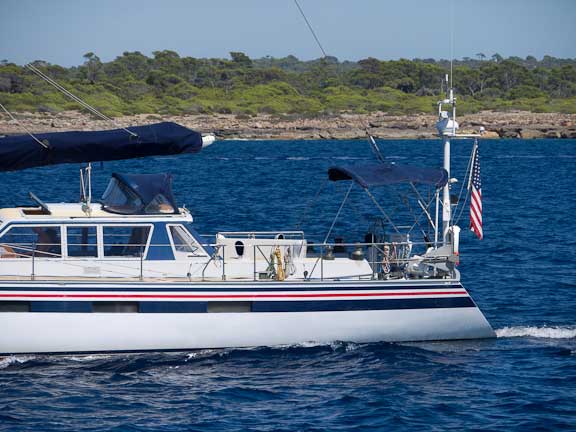 And then a clean exit with a minuscule stern wave.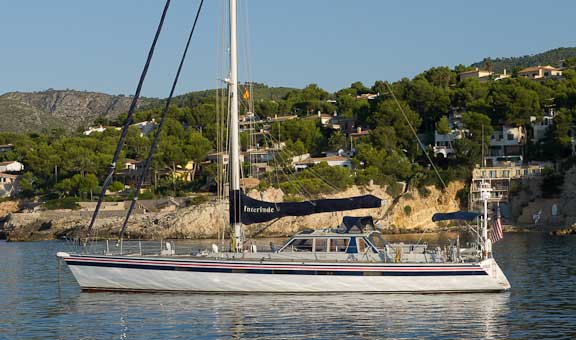 Interlude at anchor, here across from us near Palma, is, to our eye, handsome. The light gray tends to reduce the bulk of the pilot house.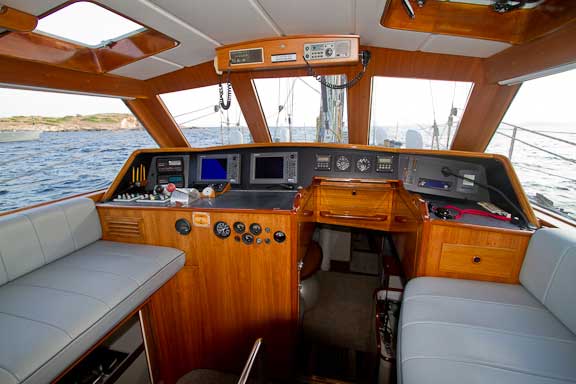 The pilot house is the nerve center at sea. Nav gear, recently updated to Furuno Nav Net 2 (the dual WH Pilots are original), is easy to operate with the boat heeled (note the bar at thigh height dividing the sole). There are Hynautics engine controls, and a simple but reliable LED based alarm system for engine, genset,, bilges, etc.
From here on keep in mind that the fabrics shown in the photos – cushions, head and hull liners, and bulkheads – are all original.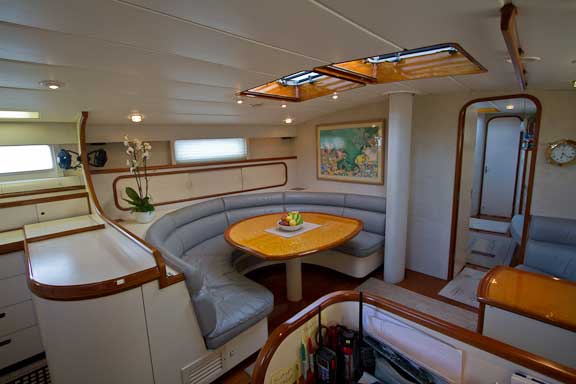 The photos are self explanatory. We'll make a few comments on the design history at the end.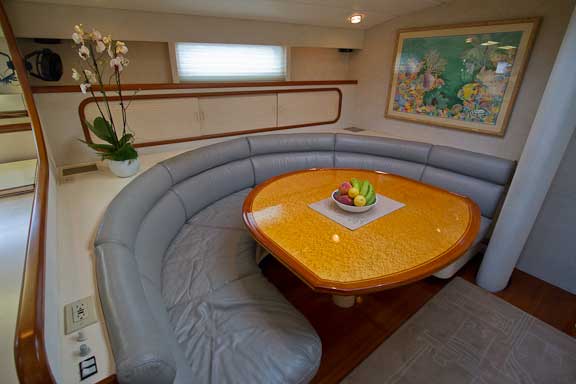 Having an original interior look like this with well over 100,000 miles takes care and dedication on the part of the owners, of which, as previously mentioned, the present are the fifth.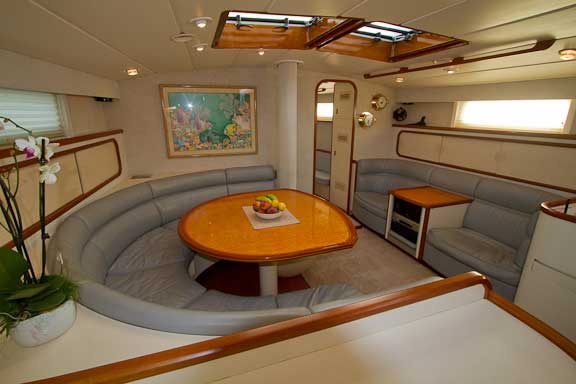 We quite like the combination of HPL surfaces and varnished timber trims.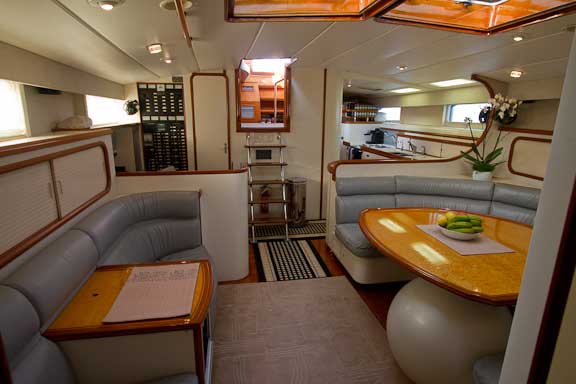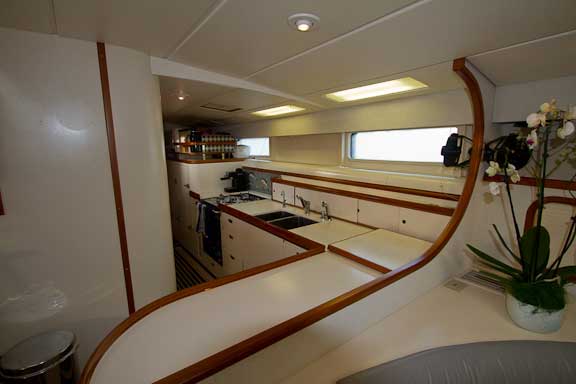 Interlude's interior was styled by Anne and Phillip Harrill.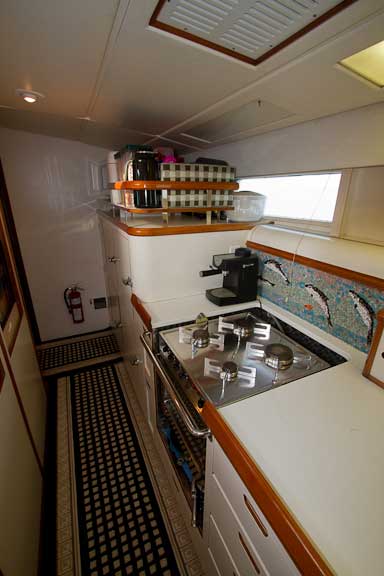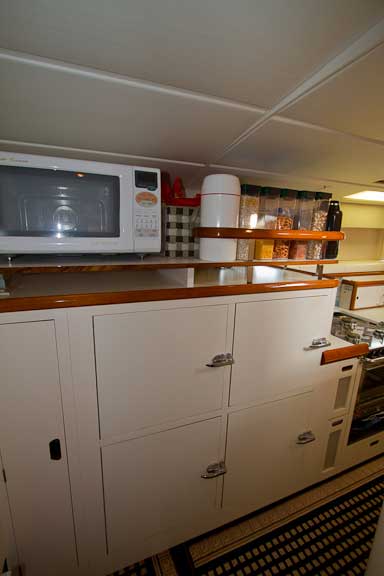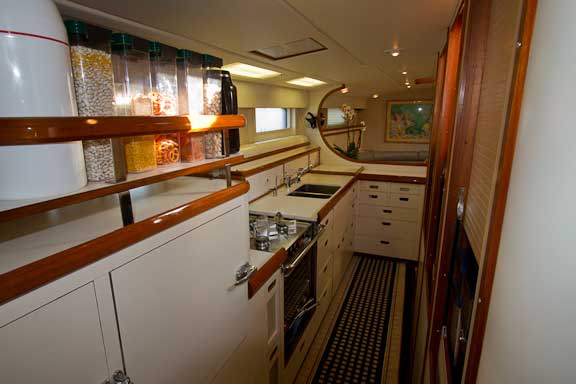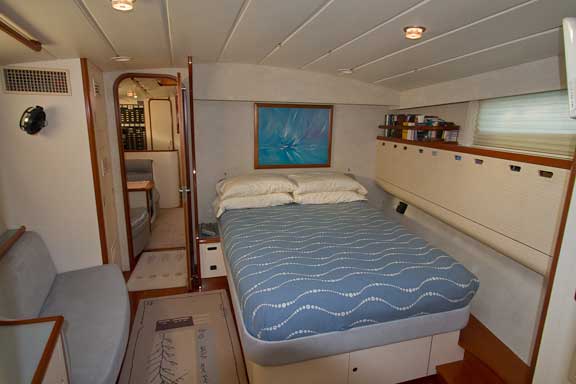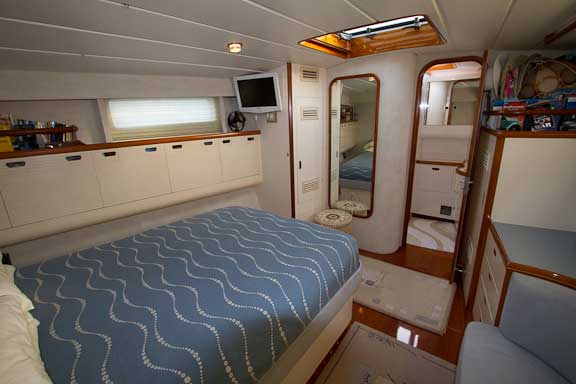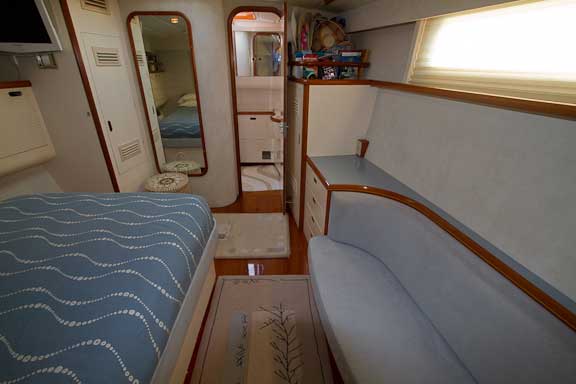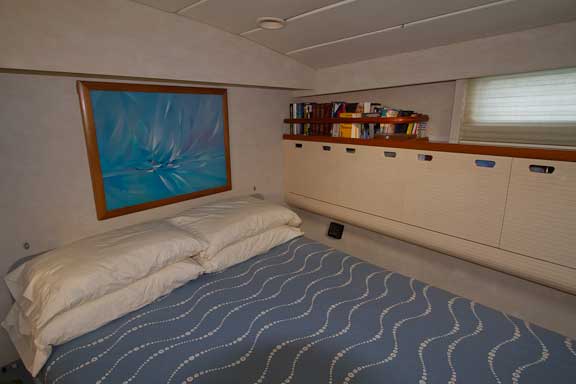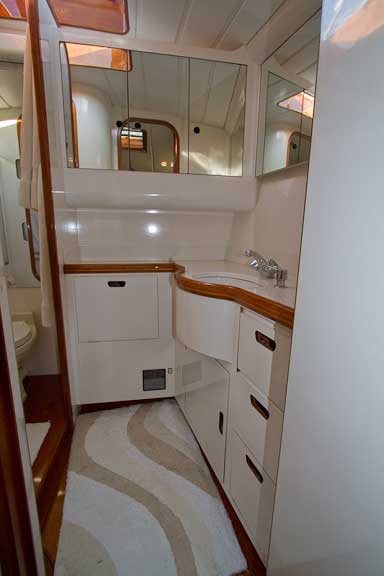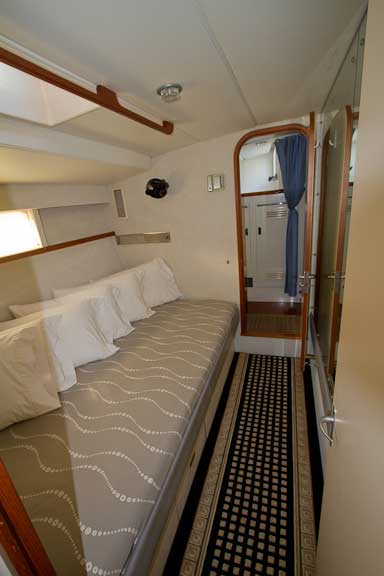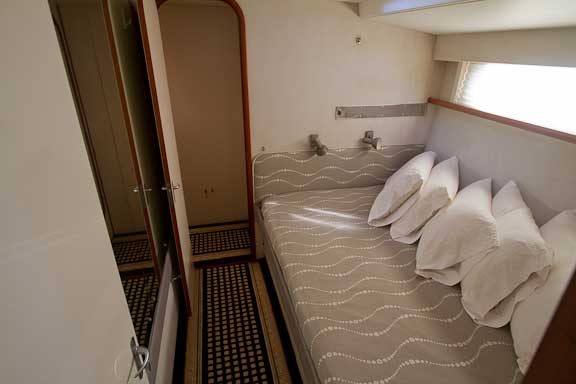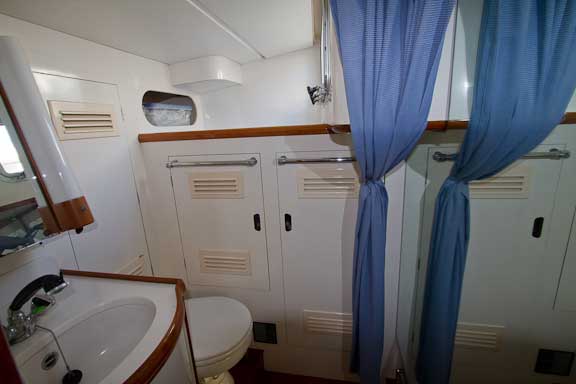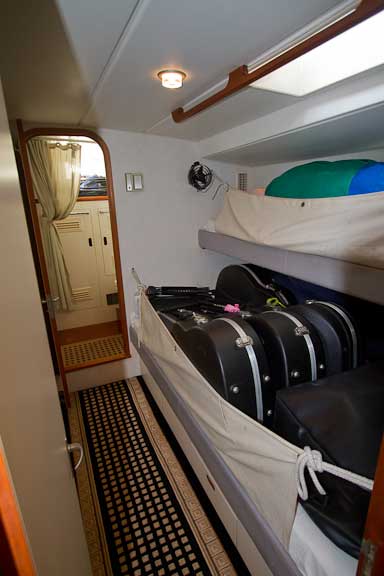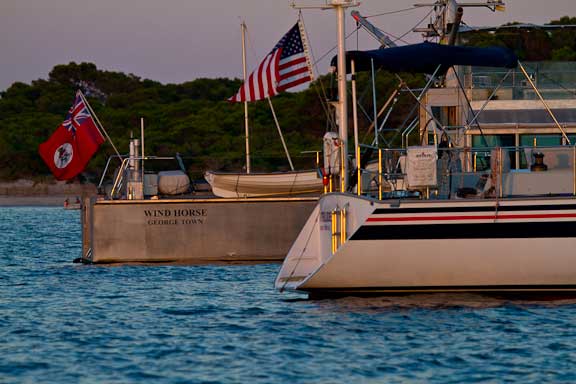 Interlude is a near sister to Deerfoot ll. We designed her in 1983, with hull construction starting a year later at Poel and Sven Oeland's yard in Denmark.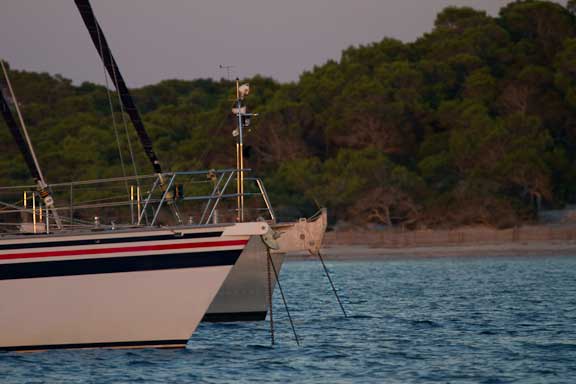 She was fitted out at the Walsted yard in Svenborg, Denmark, and then sailed to Canada by her first owners. Subsequently she circumnavigated, did numerous Pacific passages, and was in Florida when her present owners aquired her ten years ago. They have since put 50,000 miles on her as a couple, and will soon close the loop on another circumnavigation.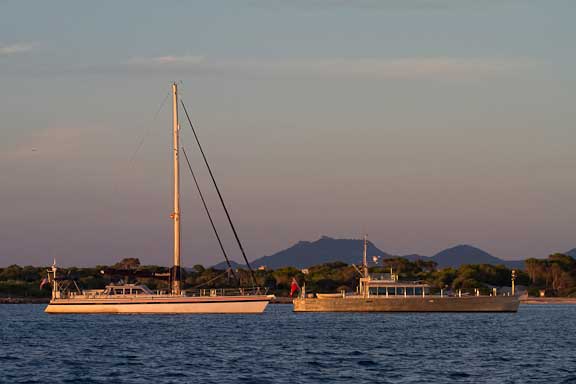 Although a quarter century separates design of the Deerfoot 73 Interlude from Wind Horse, the goal is still the same. Safe, comfortable, efficient cruising for couples, in yachts that are easy to maintain and stand the test of time.
Posted by Steve Dashew (September 15, 2010)