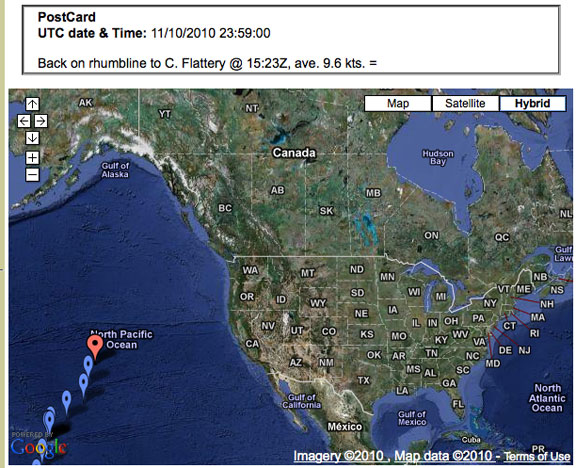 After a brief period of heading north of the rhumbline during a frontal passage Sarah Sarah is back on track for the Straights of Juan de Fuca. From her satcom update:
TIME: 2010/10/11 23:59
LATITUDE: 33-47.92N
LONGITUDE: 149-29.92W
COMMENT: Back on rhumbline to C. Flattery @ 15:23Z, ave. 9.6 kts.  Overcast, occas. rain, air 68°F, sea 76°F, 1023 mb*, wind SE at 18 kts.*, 1.2m swell from E
Rick Shema's comments follow on weather:
Hi Bill:

I received your position through YOTREPS. Looks like you got through the
first cold front in fine fashion.

1. Weather Summary as of 11 October 2010 0200HST.

A high cell positioned to your NE near 39 00N 139 00W continues moving
towards the NE. Another low pressure system passes from west to east north
of your expected position. Associated CF passes overhead the afternoon of 13
Oct (13Oct 0300Z). Winds increase SEerly 25 kts range. Wind waves 2.0m.
Mixed swell NW and NE 2.2 to 2.8m. Higher conditions in localized squalls
and instability.

After front, NW conditions with abating trend. Skies partial clearing.

2. Route:
Continue on rhumbline course to Cape Flattery. Consider using similar tactic
to mitigate rough and unsettled weather conditions in proximity to frontal
boundary. Take a short leg to the NWward prior to frontal passage to
minimize time spent in adverse conditions. When winds become NWerly, they
should also abate. Then resume rhumbline to Cape Flattery.
Note the suggested "tack" to the NW ahead of the front and then "tacking" back to the NE after the front passes. This is the same approach you would take under sail. Whether or not this required for comfort is a question of sea state.
Posted by Steve Dashew (October 12, 2010)