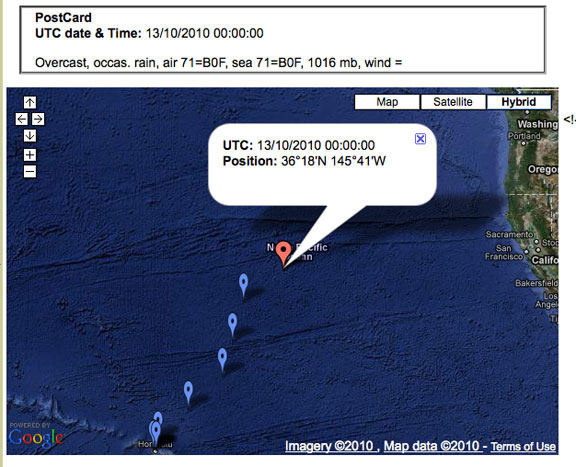 Having completed their fifth day at sea Sarah Sarah's crew is undoubtedly celebrating having half of the 2275 nautical miles to the Straights of Juan de Fuca behind them (actual distance with weather jogs is likely to be closer to 2400 miles). According to Rick Shema (see below) they have one more frontal passage, perhaps gale force, and then the long range forecast is quite good considering the time of year and location.
Rick Shema's comments follow:
Hi Bill:

Your position report was received through YOTREPS. 

1. Weather Summary as of 12 October 2010 0200HST. 

No significant change since yesterday. Cold front still approaching. At 9.5
kt SOG CF should pass early Tuesday evening, 12 Oct before 1900HST
(13Oct0500Z). Winds ahead of the front increase higher than yesterday's
projections. SEerly 25 kts range and post front NW near gale. Wind waves
2.5m before front and 3.5m after front. Mixed swell NW and NE 1.0 to 1.5m.
Higher conditions in localized squalls and instability. 

After 13Oct0200HST (13Oct1200Z) winds abate to the 25 kt range with a
further abating trend.

2. Route: 
Continue on rhumbline course to Cape Flattery. Consider taking a short leg
to the NWward prior to frontal passage to minimize time spent in adverse
conditions. When winds become NWerly, they should also abate. Then resume
rhumbline to Cape Flattery. 
You could say that Sarah Sarah has been lucky with her weather so far. However we'd argue that luck has little to do with it. The key ingredients (and this applies to most of their trip up from New Zealand) are:
The ability to average 9.5 to 10 knots which allows them to take advantage of good weather and avoid unpleasant.
A skipper's mindset that is determined not to waste weather opportunities.
Coordination with a weather router who understands both the weather, capabilities of boat and crew, and how to meld these ingredients for the  best possible outcome.
A knot less average boat speed, an extra day or two sampling Hawaii's pleasures, and this could have easily been a fight with a succession of strong gales (or worse).
However, before we get too far along with kudos, keep in mind the time of year and proximity to the Gulf of Alaska. Although the prognosis is looking good, nobody is going to relax until Sara Sarah is safely moored at the end of her passage.
Posted by Steve Dashew (October 13, 2010)