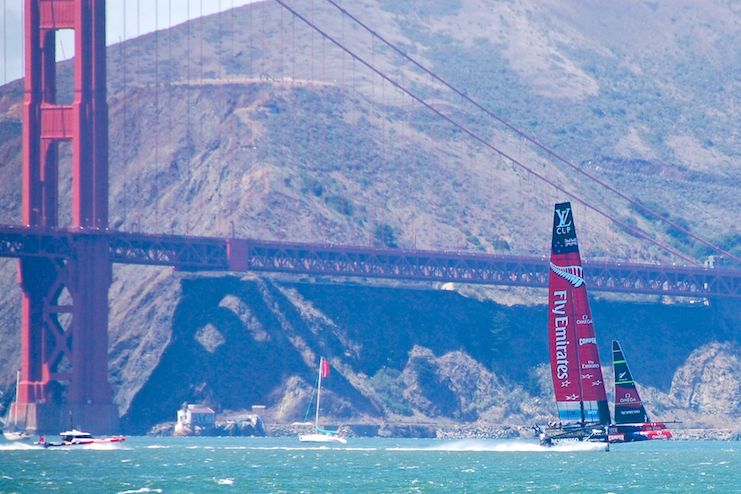 This past weekend found me in San Francisco – courtesy of our builder Circa Marine of Whangarei, New Zealand – to witness the Kiwis' very successful sail into the America's Cup, with a dominant performance against the Italians in the Challengers Louis Vuitton Cup. I'm sure most of our SetSail regulars have been watching events unfold closely. As a passionate sailor, I was very eager to attend!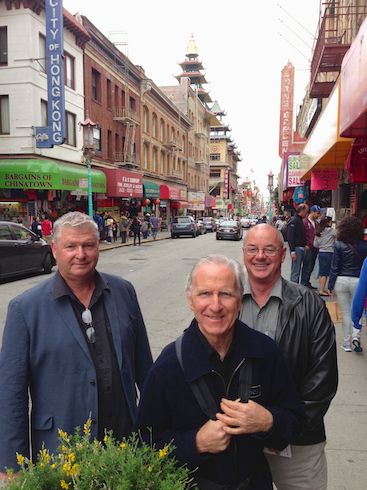 My gracious hosts for the weekend, Circa Marine owners Bruce Farrand (left) and Logan Cripps (center), were on-hand to help promote the New Zealand yacht building industry, and to help showcase and promote Kiwi skills and capability to the US market. Joining us was Dashew Offshore teammate in New Zealand Kelly Archer (far right). The photo above documents our trek through San Francisco's famed Chinatown.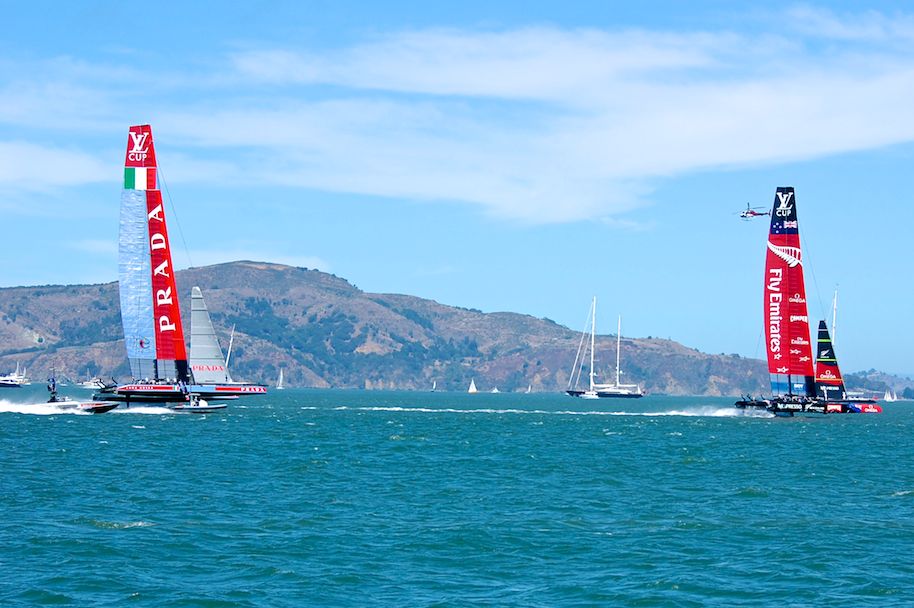 If you have been paying attention, you know the Kiwis' Emirates Team New Zealand did a bit of a "horizon job" on the Italian's Luna Rossa – with the photo above giving a glimpse of what it looked like when they were "close". Typical wins were by over 2 minutes in match races that lasted little more than 25 minutes. That is dominance, but was not entirely unexpected with the crew of Luna Rossa sailing a first generation Kiwi AC72 (acquired from ETNZ) against Emirates Team New Zealand's second generation AC72.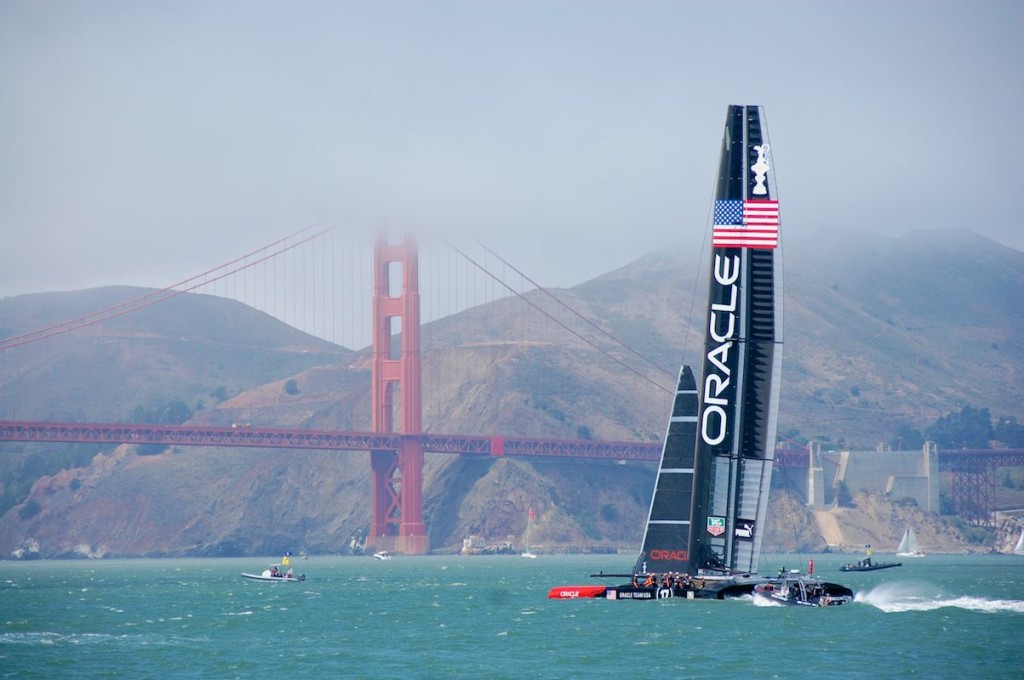 Emirates Team New Zealand is now set to take on the American defender – Oracle – seen in this photo playing at the starting line (box) just before the Kiwis and Italians were to begin race #7 (of 8 sailed).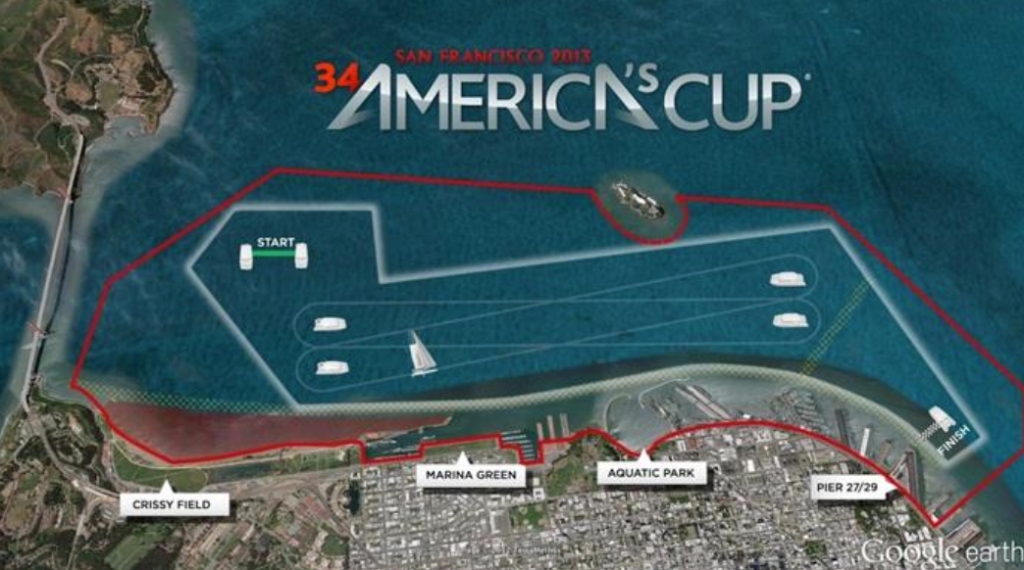 The layout of the course is shown above. We had the opportunity to watch race #7 from the St. Francis Yacht Club, located onshore (south) of the windward (west, or lefthand side) rounding gate. The previous photos were taken from the club's shoreside view deck. The San Francisco bay is an amazing venue for such an event. The only place better suited for spectators of yacht racing would be the Match Cup races in Marstrand, Sweden.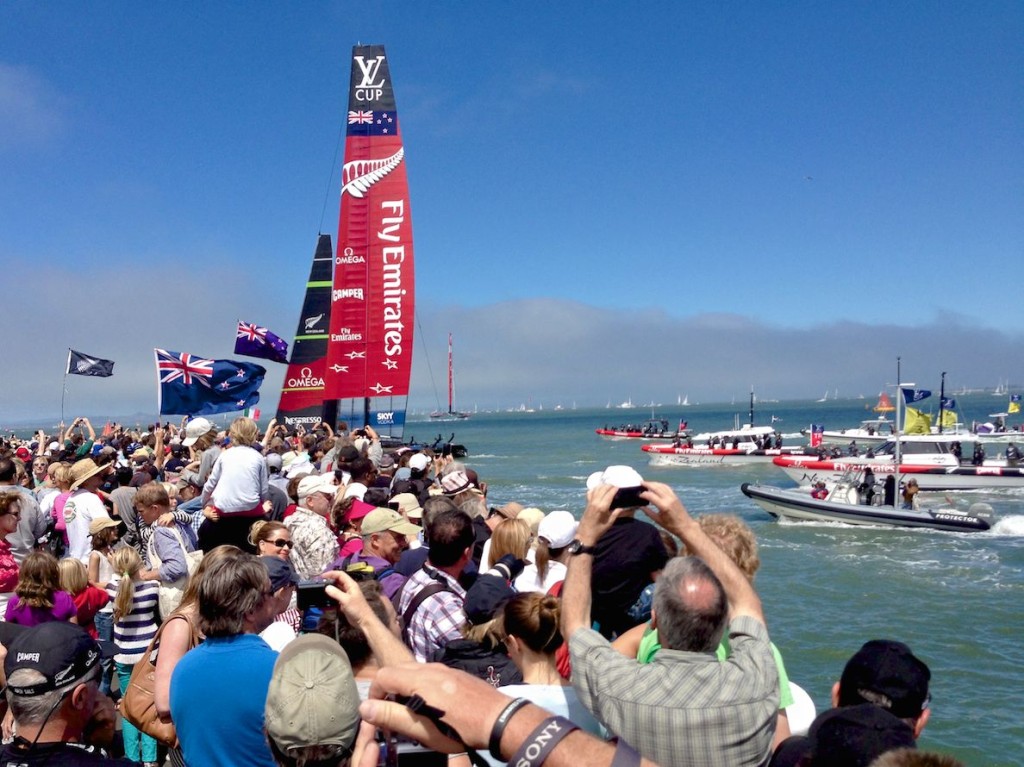 Sunday's viewing for what became the final race of the LVC was from the official America's Cup Park, located on Piers 27/29. I snapped the photo above to record the celebration as Emirates Team New Zealand did a fly-by to wave and show their appreciation to those cheering them on. There was a significant contingent of Kiwis on-hand, and all of the Americans we encountered were voicing strong support and encouragement for the Kiwis to "take the cup home".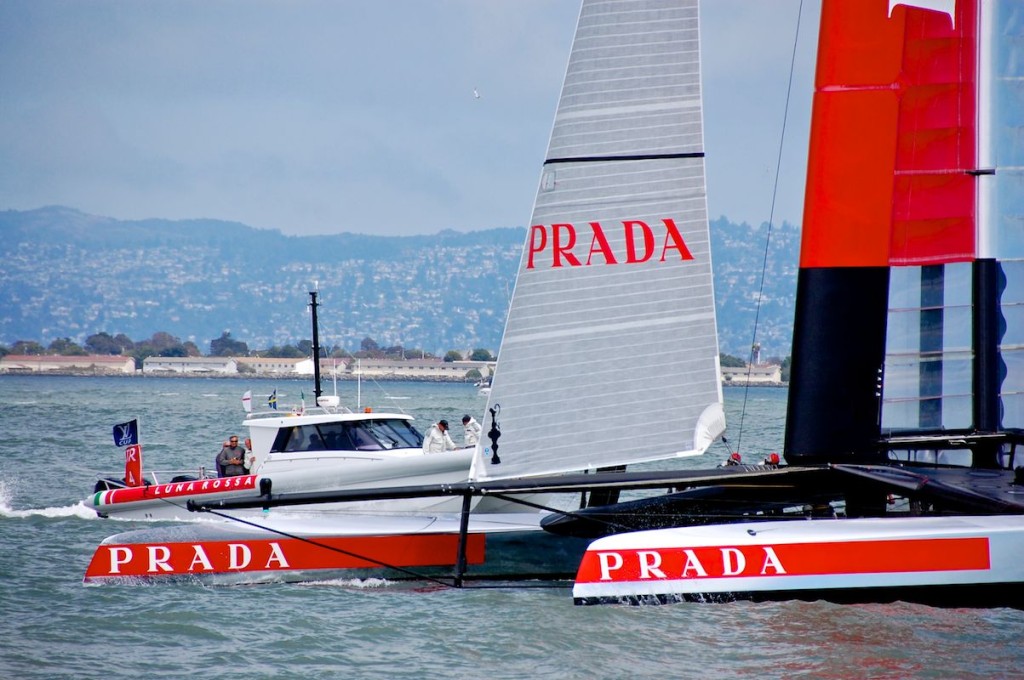 I will end with my favorite photo of the weekend – a bit of a fluke as I raised my lens above the crowd of people in front of me to catch Luna Rossa bearing away after crossing the finish line of race #6 (Friday). The vivid and striking silver and red of the Italian boat (and their crew suits!) brought a nice change of scenery to the otherwise ominous black and red of Emirates Team New Zealand and Oracle.
A big hearty American !!thank-you!! to Circa Marine and NZ Marine for hosting and showing such amazing Kiwi hospitality on my home turf (USA). Stay tuned for pictures and post of our exclusive VIP tour of the Emirates Team New Zealand boat shed -courtesy of team business manager Ross Blackman and sail/wing designer Burns Fallow.
For more information on the FPB series, contact Sue Grant: Sue.Grant@Berthon.Co.UK.
Posted by admin (August 30, 2013)