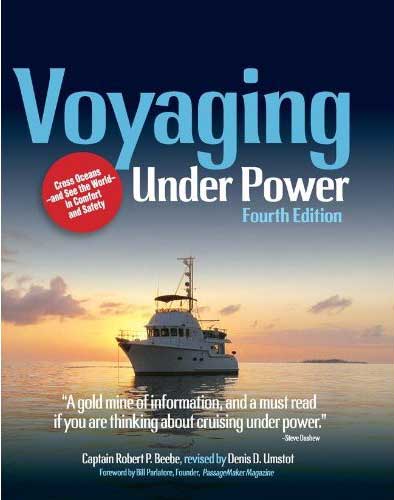 The long awaited fourth edition of Bob Beebe's Voyaging Under Power is now available. Updated and revised by Denis Umstot, this is the first edition we would characterize as a valuable resource.
Denis, with Mary Umstot are highly experienced voyagers, having seen more than 50,000 miles pass under the keel of their Teka lll. They take a no-nonsense look at real world issues of voyaging under power while addressing a variety of topics, including stability, not previously discussed. They differentiate between coastal and offshore cruising requirements, while providing the tools for making the correct decision on the "right boat" for their needs. The Umstots present many viewpoints, with chapters and sidebars by a variety of designers, builders, and cruisers. Careful reading of this excellent reference will be of value to anyone thinking about voyaging under power.
The copy below is from the back cover.
The passagemaking bible updated to help you live your long-distance voyaging dreams:

First published in 1975, Robert Beebe's Voyaging Under Power revolutionized long-distance cruising, encouraging powerboaters to enjoy what was once exclusive to sailboats and their crews: crossing oceans to exotic, interesting, and beautiful places in comfort with a minimum of problems and expense. Now power-cruising couple Denis and Mary Umstot, whose interest in power voyaging was ignited by Beebe's work, have updated Voyaging Under Power for the twenty-first century. The much anticipated Voyaging Under Power, Fourth Edition, includes Beebe's original wisdom and philosophy of passagemaking, as well as his groundbreaking thoughts on vessel stability and fuel monitoring. Fourteen new chapters provide insights into a range of additional topics vital for ocean passages and passagemakers, including:
Posted by Steve Dashew (January 8, 2013)