FPB 64-6 Grey Wolf has finally hit her stride and is cruising along at 9.7 to 11 knots towards Panama along the fifth parallel.
This is a direct result of officially becoming members of the order of shellbacks, now having crossed the equator for the first time. They have been rewarded with the holy grail of upwind voyagers, a counter current, or more specifically the North Equatorial Counter Current. Rather than losing a knot to knot and a half to the trade wind current as during the first part of the voyage, they now have a periodic assist. This is a benefit of having pushed north to the underside of the ITCZ (doldrums) rather than heading direct to Panama. They will travel several hundred miles further this way, but overall this is a faster, more comfortable route – as long as you have sufficient fuel range to avoid the necessity of stopping in the Galapagos Islands.
Meanwhile, Peter Watson and crew have been rewarding us with some valuable data.

They are sending detailed information on fuel burn, auxiliary loads, wind, wave, and boat speed, which we are using to check our performance prediction algorithms. The voyage is being made at a constant 1750 RPM which equates to 9.7 to 10.1 knots depending on wind, associated wave drag, and vessel loading, exclusive of ocean current impact. Their speed has varied from a low of 8.4 knots to as much as 11.1 knots, with the fuel burn remaining constant when adjusted for external factors. Grey Wolf has been consuming 20 to 21 liters an hour (5.2/5.5 US gallons). This goes up a little in the heavier headwinds, and down in following breezes. As her ambient conditions vary, we can test the increase or decrease in fuel burn against our predictions. So far they have been quite accurate.
While we have similar data from many other FPB voyages, what is unique here is the contemporaneous record keeping, and large variety of relatively stable multi-hour wind and wave conditions. Peter Watson has periodically varied from the set routine in order to check performance at slower and faster RPMs. This gives us further data on the merits–or not–of the VPP programs.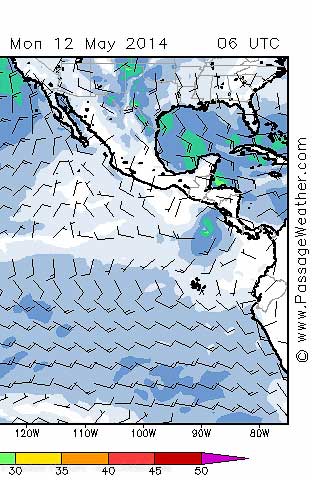 Looking ahead Grey Wolf has a potential bonus play coming up. The forecast for next week shows a tropical wave coming from the Caribbean spinning up just north of Panama.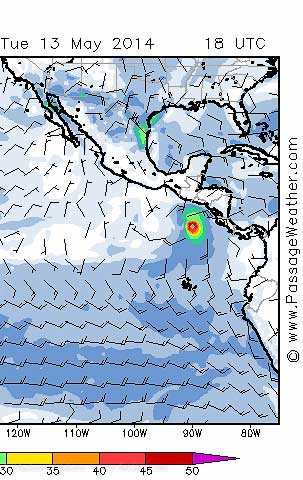 If this does occur, although Grey Wolf will be a thousand or more NM west, the tropical storm will dampen the onset of headwinds for the next ten days. If the crew are lucky, they might even get some push.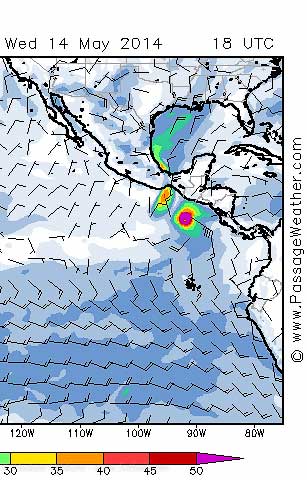 Weather router extraordinaire Bob McDavitt has this to say:
"Best east going current is now at 4deg 30min N, but no point in chasing it when you can head for 5N 110W then 6N 102W then 5N 94 to 85W, that's the best current. ITCZ today has activity ahead at 112 to 108w, 103 to 93W.
Tropical LOW expected to form near 9N 90W around 12 1200UTC and deepen as it moves away to the NW. For you, this system should bring waves over 2m and an increase in wind from the SOUTH on Thursday and Friday UTC , and you are likely to go through its spiral arm (thundery squalls) around 15 1200 to 1800UTC ."
It will be interesting to see how this all turns out. In the meantime, there a series of comments with Peter Watson starting here at the Berthon Website.
Posted by Steve Dashew (May 10, 2014)