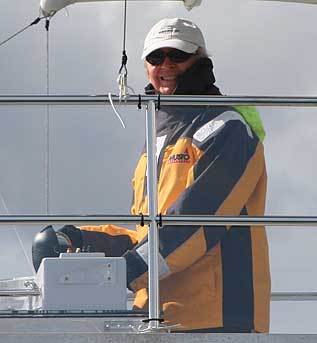 People are always asking how I like cruising on this new boat. (This post was written by Linda Dashew in 2007, after the first three seasons of cruising aboard FPB 83 Wind Horse.)It is an interesting question, because the difference is so big between this type of cruising and what I have been used to for the past 30 years – something that is not easy to describe.But the short answer is, "I love it."
"In a typical motor boat and in these conditions you would be white-knuckled, clutching a handhold and making sure you didn't bite your tongue off. On Wind Horse, however, things are so stable that Linda can brandish a chunky bread knife and calmly cuts the freshly prepared sandwiches in half."
–Motor Boat & Yachting
Prior to cruising aboard Wind Horse, I spent 30 years sailing with my husband Steve and our kids when they were still with us. This took us on a circumnavigation, and with lots of side trips thrown in, added up to hundreds of thousands of miles.
Once we started designing and building our own boats the sailing life style became much more appealing, and I was a lot more comfortable. But even with wonderful designs like Beowulf (our last sailboat: a 78-foot ketch), after two or three months aboard I was anxious to get back to the house.

Things are different now. I still like splitting the time between boat and home, but now it's harder to leave the boat, and I find that the majority of our time is being spent aboard the boat. Most surprising to me, when it is time to head back to the house I am reluctant to leave Wind Horse.
Cruising on Wind Horse is more enjoyable than in the past because I'm much more relaxed: I feel in control and able to handle things on my own. On the sailboats my anxiety level was usually up when we were at sea. I was always thankful when a passage ended safely.
Things have changed with Wind Horse. She is so easy for me to handle that I feel much more competent and in charge. She has all the advantages of living in a luxurious apartment, plus the benefits of taking us to wonderful and stimulating places.
I wanted to try to give you a feel for what I'm experiencing, so there are lots of photos following. If you want more interior shots you can find them in the articles on interior sections on this site.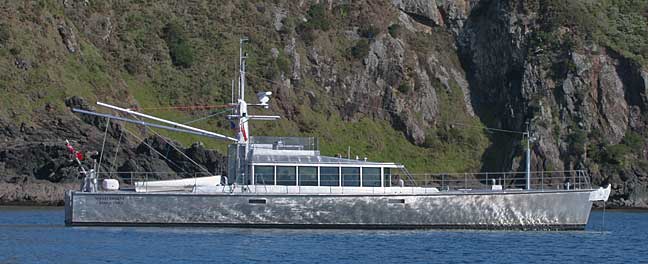 In the past two years we have cruised from New Zealand…

…through the tropics…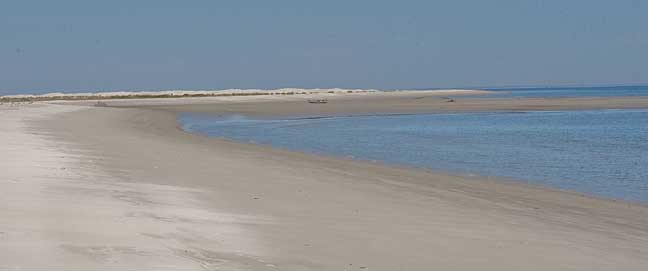 …spent time in Mexico…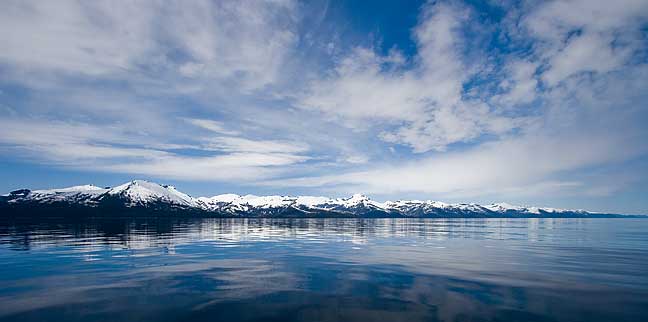 …and two seasons in the Pacific Northwest and Alaska.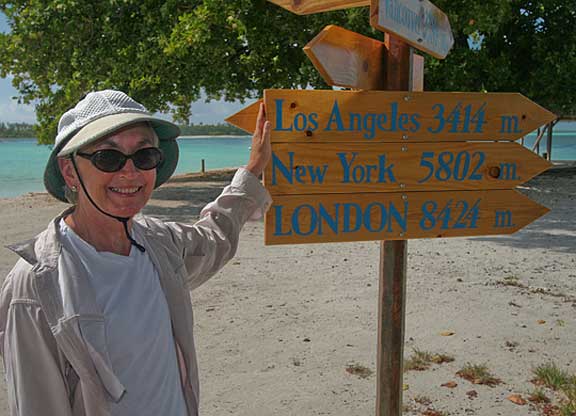 We have done this almost effortlessly, and the months and miles have gone flying by.
I guess you could say what I like best about this new style of cruising boat is the peace of mind. Having eliminated the worries I had cruising under sail, I'm free to really enjoy myself on Wind Horse.
Wind Horse is a lot easier to maneuver than our sailboats were. No sails are involved – we don't have to spend time on deck doing sail changes, or tweaking trim. The worries I used to have about working the boat – accidents from reefing sails, falling overboard, being hit by a jibing boom or flaying lines – are gone.

Knowing we can make a steady 11 knots for thousands of miles takes the anxiety out of longer passages. We have the capacity to take advantage of a weather window for favorable winds and currents, usually guaranteeing a comfortable trip rather than running out of the weather pattern and being stuck battling uncomfortable conditions. This gives me mental breathing room to enjoy the passages, as opposed to enduring them as I did in the past.
Visibility is so good – I have 360 degrees line of sight from inside the salon and galley. I can easily see oncoming traffic and the sea state. This eliminates the surprises that on occasion used to give me a jolt of adrenaline.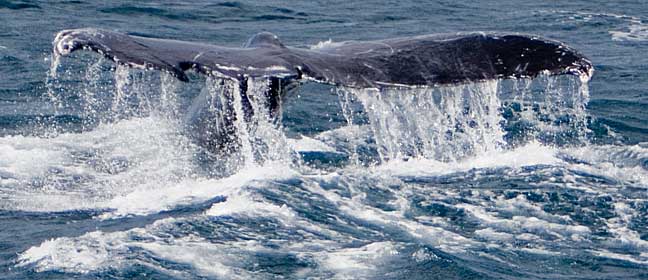 A bonus to all this visibility is that we are seeing a lot more wildlife.
We often catch a hint of movement out of the corner of our eyes. Just enough to have us watching for more action. Whales…
…porpoise…
…birds…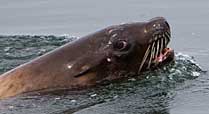 …seals…

…and otters, are all out there waiting to say "hello", now that we can easily spot them.
Our commercial grade radar makes a huge difference in keeping an eye on other traffic. Between this and the good visibility, I enjoy my time on watch a lot more. The SONAR which we recently installed gives us confidence to take the boat into places we would never attempt before.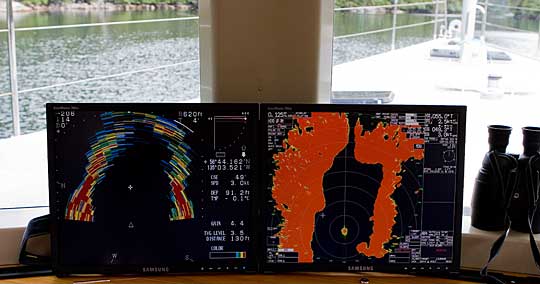 SONAR helps to spot hidden rocks and shallows.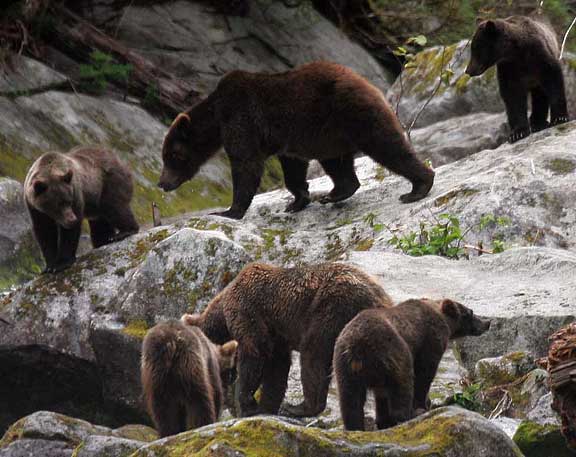 Combined with our shallow draft and maneuverability, this allows us to explore wonderful anchorages that we would have otherwise missed, and see some amazing things like the two families of bears catching salmon in these photos.
Then there's the comfort factor. Our FPB is a very steady platform. The hull shape and active stabilizers keep her level, making it easy to walk around down below while we're under way, even in large waves. I can work in the galley without holding on and without worrying about things sliding around on the counter tops as I prepare meals. And when the sea gets really rough, which it does on occasion, between the soft motion of the boat, the design of the furniture, and all of the handholds, it is easy for me to continue to work and move about.
This stable platform extends to the after deck while at anchor. It is so easy to launch the dinghies that we're out exploring as soon as the hook is down. We typically put the rowing dinghy in first. This gives me a bit of exercise, and a chance to get close to our surroundings.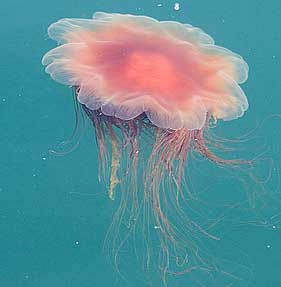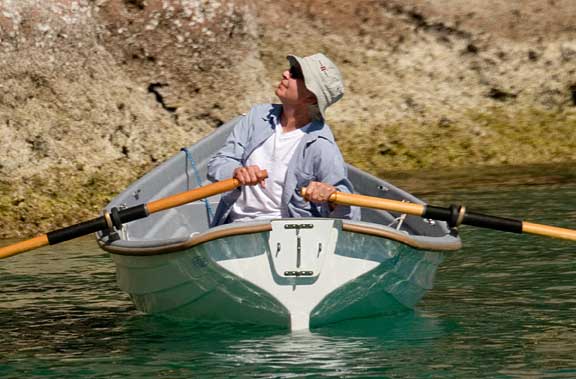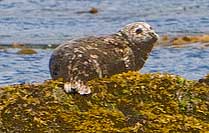 Whether I am off on my own, or the two of us are rowing together, there are always lots of new things to experience.
Often we'll find wildlife along the shore.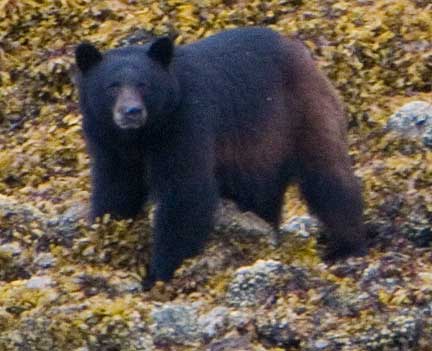 If we come in softly, especially with the rowing dinghy, we can sometimes get close without disturbing these critters. They usually take a look at us, and then go back about their business.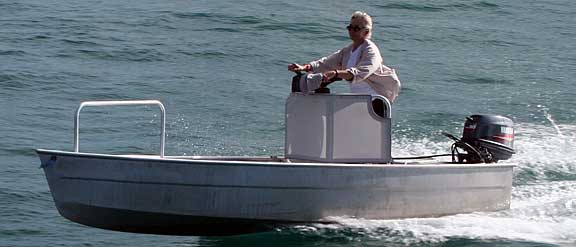 The fact that it is so easy to launch and retrieve the dinghies makes us more likely to take the dinghy out to explore the anchorage, or take a walk ashore – which I love to do.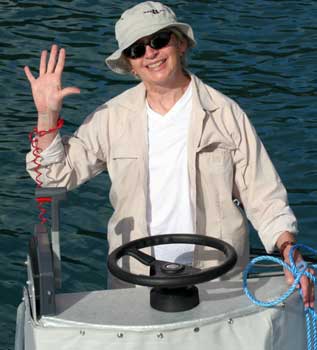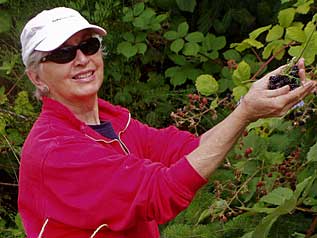 Do these photos look like I'm enjoying myself? Beach combing, picking wildflowers or berries, rowing for exercise, or going for a jaunt on my own in our power dinghy is a wonderful part of the cruising lifestyle.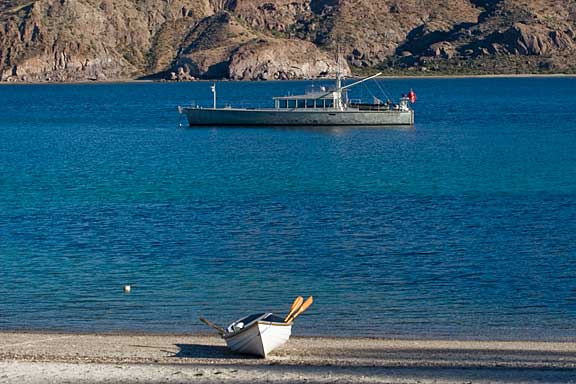 Often we'll take the dinghy in together and then after a walk, sit on the beach reading, chatting, and sometimes just enjoying the view.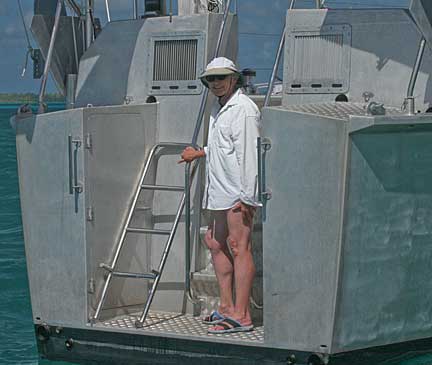 One of the things I really like about the FPB is how easy it is for me to get into and out of the dinghies. There a lots of hand holds, and even when it is a little choppy, I still manage on my own.
Climate control adds immensely to my pleasure aboard. I can now be comfortable inside no matter what is going on outside. This has made my time in both the tropics and cold climates a lot more enjoyable.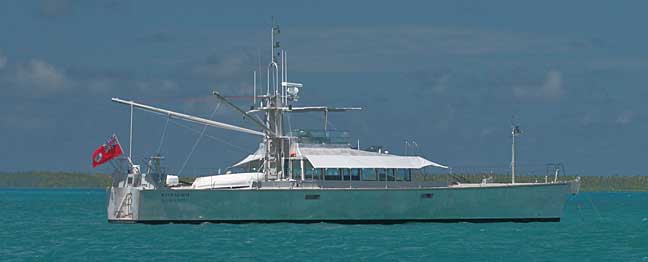 Hot and muggy outside? Just go inside and turn on the air conditioner.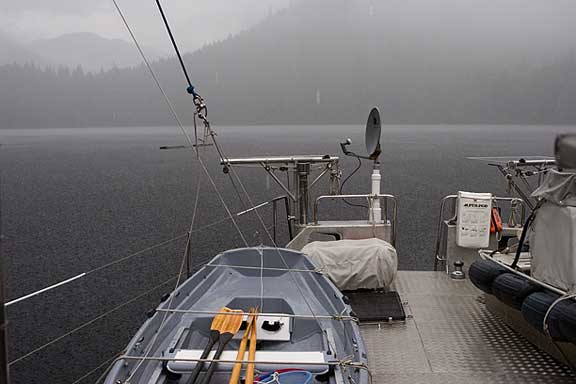 If we've got the boat shut up because it's raining and I'm cooking pasta, which causes the windows to fog, I turn on the air conditioning and a few minutes later the windows clear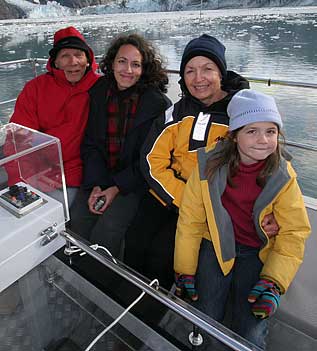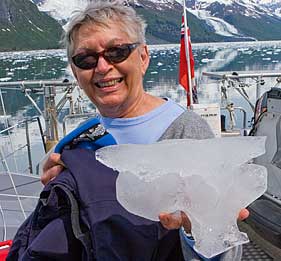 When we're visiting Alaskan glaciers we have the option of viewing them from inside where it is warm and dry, or outside on the flying bridge, where we're protected from the rain (and sun).
I have a large galley with space for all my appliances and tools (which are almost the same as I have at the house).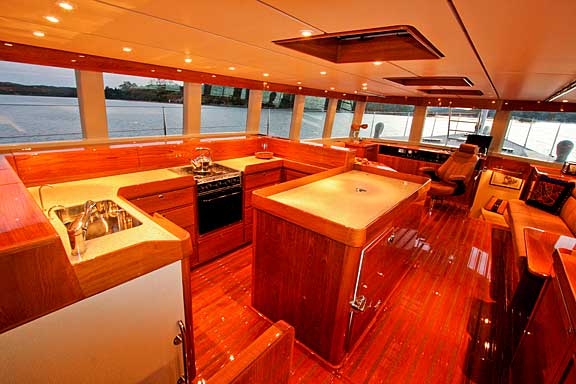 There's a refrigerator and two freezers with a huge amount of capacity, and between these three I am able to prepare meals with whatever I want, including lots of fruits and veggies.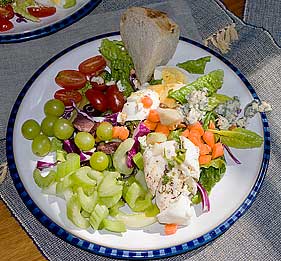 The dishes and glasses are stored in easy to reach built in cupboards and there are large drawers for cutlery, linens, serving pieces, ample counter space and easy access cupboards holding cereals, flour, spices, etc.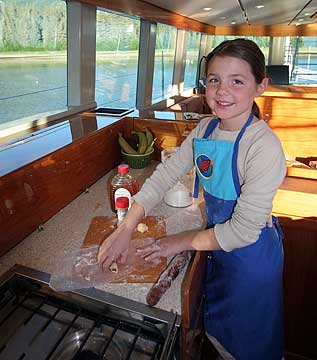 It's a really easy galley to work in, and it makes cooking fun.
The full size washer and dryer mean I can have fresh towels and clean clothes all the time. There's virtually an unlimited supply of water between the large water tanks and the water maker, and I can wash every day if I want to. I can iron the sheets on top of the cupboard housing the washer and drier, with a wonderful view of what's going on outside. And I have plenty of areas for stowing linens and clothes.
The interior ambiance is wonderful, especially our suite forward.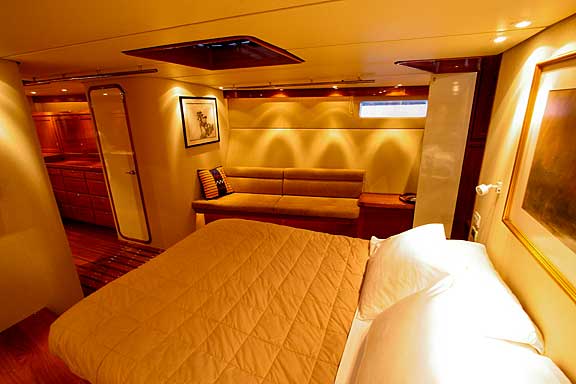 I have a walk-around queen-size bed, huge closet, lots of drawers and shelves and a tub/shower with unlimited hot water for my nightly soaks, and room on the bulkheads for some of our favorite pieces of art.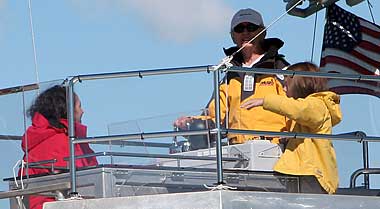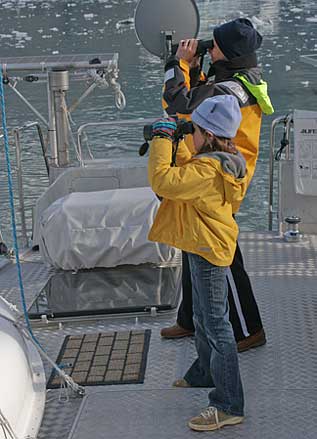 It's easy for us to be hospitable with comfortable, private guest quarters, so we are having more friends and family join us these days. And it's great to have guests over for impromptu dinners with dining either inside, or on beautiful days or nights, topsides at the flying bridge table.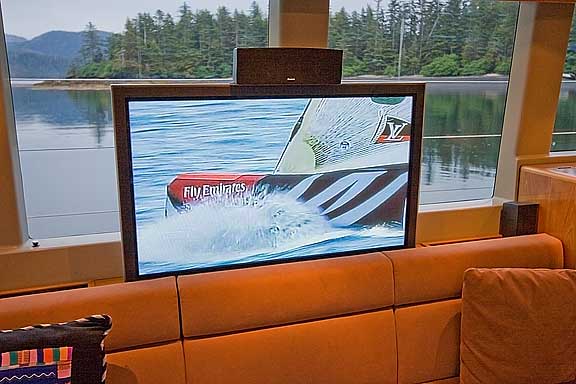 Entertainment is at my fingertips with a flat screen TV and surround sound in the main saloon. We carry lots of DVDs of course,
which help pass the time on passage, and when the satellite dish is in an area with coverage, I can tune in my favorite sports programs.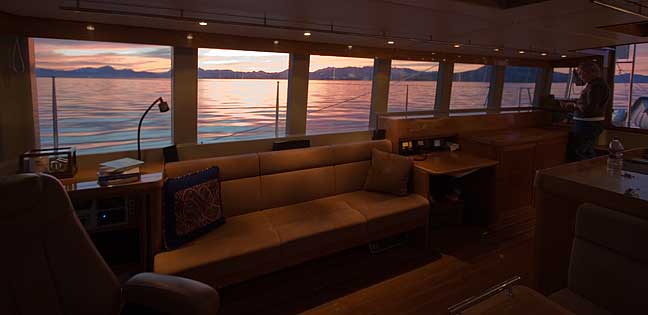 But sometimes the best entertainment is just looking outside.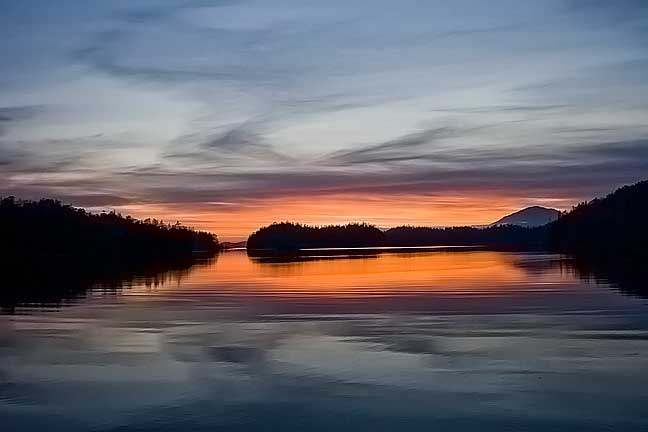 Invariably when other women come on board Wind Horse they take everything in and say: "I could live on this boat."
My reply? "Of course, we're very spoiled."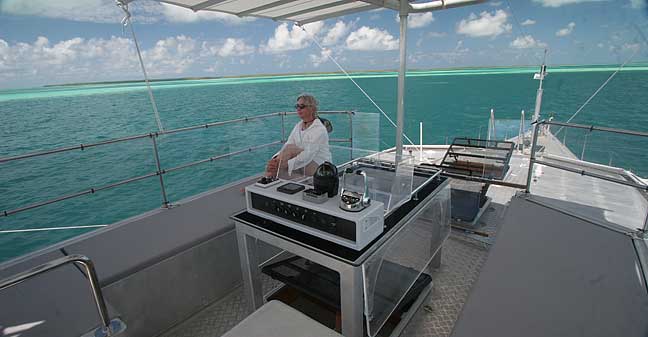 Which is why we are spending so much more time cruising these days.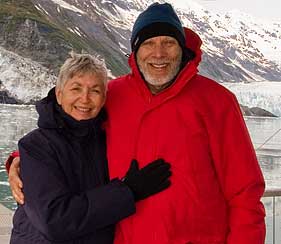 For more information on the FPB Series, e-mail Sue Grant: Sue.Grant@Berthon.Co.UK.
Posted by Steve Dashew (January 23, 2012)