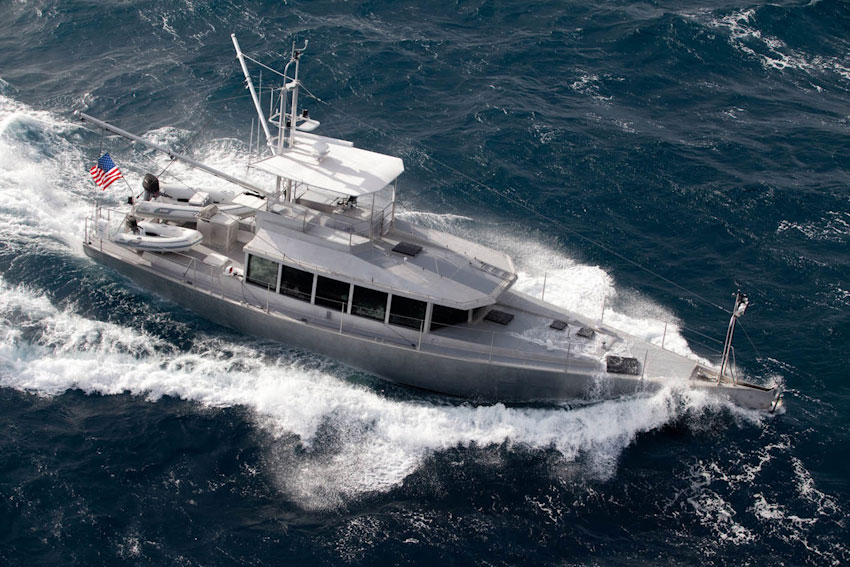 This is the story of everyday folks, who dreamed of distant horizons and made it happen. If you look at our FPB 64 owners, they are a normal group of yachties who started without ocean crossing experience, who have turned themselves into true voyagers. How did they do it? Why did they do it? What is it that makes it possible for them to accomplish what other people only dream about? Why are they out there doing it while most yacht owners sit in a marina?
Since the launch of the first FPB 64 in 2010, the 64 fleet has grown to 11 hulls, crossing over 160,000 thousand nautical sea miles, almost all achieved with just couples on board. These numbers and the distant ports reached may seem astonishing, even for the FPB marque, but are in line with the experience of the Owners of Dashew Offshore designs over the last 35+ years. (For more information on other Dashew Offshore designs, click here.)
The following is a comprehensive compilation of all things FPB 64. We have put together pertinent details, posts, and links into one page for easy navigation and investigation into everything FPB 64. The hot links in the list below will take you immediately to each section, or you can simply scroll down through this page:
FPB 64 Owner Comments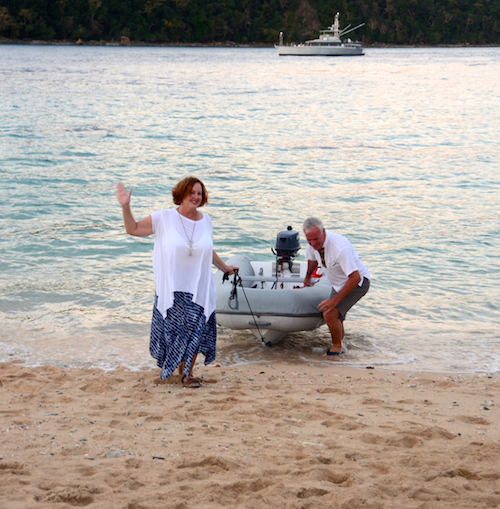 Valerie and Stanley Creighton, FPB 64-7 Buffalo Nickel: 16,000+ nautical miles
"Our FPB has been life-changing for us. The whole design, from hull to systems to interior, contributes to a comfort level both physical and psychological like no other boat we have owned or been aboard. This paves the way for whatever journeys you care to contemplate. Which, in our case, is a lot! We keenly await completion of our new FPB 70, the only thing with the power to separate us from our 64."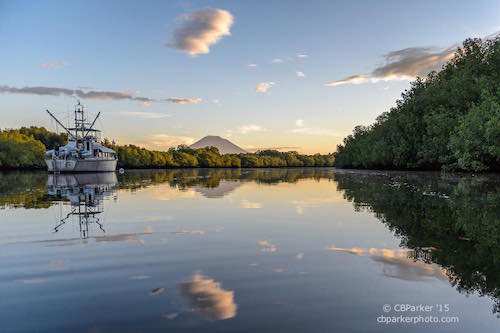 Carol and Mike Parker, FPB 64-1 Avatar: 40,000+ nautical miles
"The range capability is a huge asset if you're an adventurer. Many so-called cruising yachts would be unable to even make the passage between Hawaii and the West Coast. With more than 40,000 miles under Avatar's keel – from as far distant as Indonesia and as close to home as the US East and West Coasts – there was never a moment's doubt about making the distance. Navigating the world's oceans with all the comforts of home at your fingertips is a liberating experience."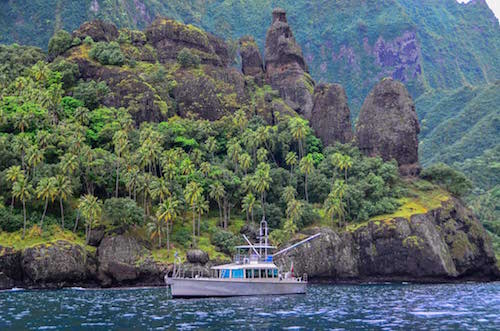 Pete and Debbie Rossin, FPB 64-3 Iron Lady: 22,000+ nautical miles
"What can you say? Without hesitation we crossed the Pacific from the deep Southern Ocean to the Pacific Northwest and she took care of us admirably the whole way – some of it in very nasty weather. She is now sold as we wait for our new 78, and her onward journeys have taken her through the Panama Canal to the east coast of the US. She is a magic carpet for those who really want to see the world and be safe doing it."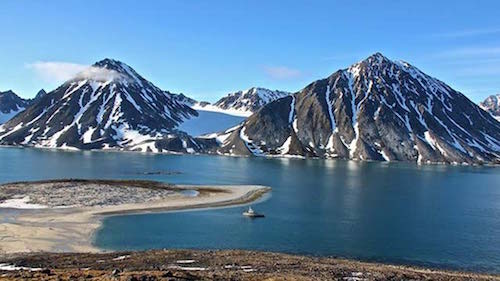 Peter Watson, FPB 64-6 Grey Wolf: 18,000+ nautical miles
"I don't go looking for bad weather, but having been caught on the edge of a tropical revolving storm I know I am safe in an FPB. And when crossing the English channel in a force 9 gale, I couldn't believe how safe and stable the boat was. To top it off, a 12,000 nautical mile journey home from New Zealand to Guernsey, and all the maintenance we did was service the engines."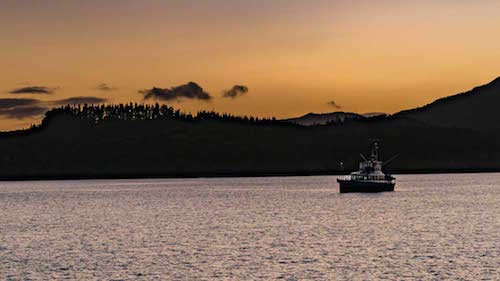 Dennis McDonald and Jacqui Mace, FPB 64-11 Dreamtime:  4,000+ nautical miles
"As the new kids on the block we were constantly reminded by Steve that we 'needed to experience what your boat is capable of handling before heading off on a long passage'. Unfortunately, we had benign conditions all through the handover period. That was all to change on the first 36 hours of our passage to New Caledonia when we encountered 5 meter seas and winds gusting to 50 knots, both from the northwest, our direction of travel. Dreamtime came through it all beautifully, shrugging off the green water on the foredeck and maintaining a steady 8.8 to 9 knots. Truly our dream home."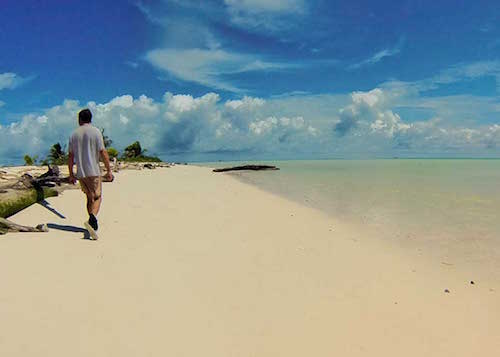 Stedem Wood, FPB 64-8 Atlantis: 23,000+ nautical miles
"Safety and reliability instills confidence. Comfort, capacity and amenity instills the desire to go further and see more. 23,000 miles, 3,000 hours running time in three years, most of that single-handed. I'm looking forward to more, both in this boat and my next FPB starting mid 2018."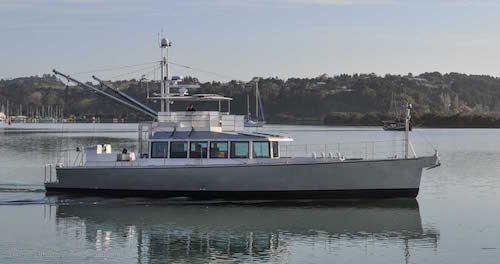 Brandy and Serena Smith, FPB 64-10 Riptide: 16,000+ nautical miles
"Riptide is now back in the Pacific Northwest, feels like we're home. We now have 16,000 + miles under her keel. I had 2 friends join me in French Polynesia for the trip to Hawaii arriving first part of September, just after the hurricanes went through. Both of these guys had no previous blue water experience so they were very apprehensive, especially tracking the 2 hurricanes ahead of us. By the time we reached Honolulu they were very much at ease with being on the ocean and felt safe. The confidence these boats instills is hard to explain; it feels like they can go anywhere and do anything you ask of them. Thank you Steve for your design and the crew at Circa for putting together a boat that instills confidence."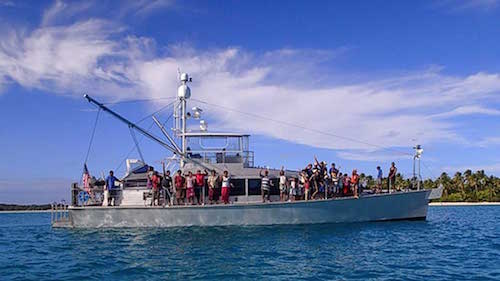 John and Sandy Henrichs, FPB 64-5 Tiger: 20,000+ nautical miles
"In addition to the most often cited reasons for owning and loving an FPB, I would like to add two of my personal favorites:
1)  No longer looking for and worrying about the next fuel stop location, as the FPB 64 fuel capacity is 3400 US Gallons/12,800 L.
2)  No more painting, polishing, and waxing fiberglass. A time consuming, reoccurring, and expensive process.
Aluminum is beautiful !"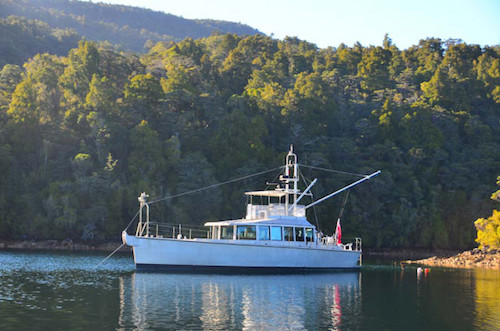 Chris and Carolyn Groobey, FPB 64-3 Toccata 6,000+ nautical miles
"We are long-time sailors who bought the first FPB 64 that came on the resale market for our sabbatical cruising. We are happy converts to the "dark side" for long-distance cruising and adventuring, with speed and safety in a boat that is easily operated and maintained by a couple. We highly recommend the FPB 64, whether new or previously cruised, to those who are looking for the perfect boat to fulfill, and expand, their dreams." Back to top
FPB 64: The Perfect Bomb Shelter
The post that follows was originally penned in the northern hemisphere fall of 2008. Lehman Brothers had just declared bankruptcy, the economic system was on a precipice, and yet the world of bankers and politicians continued to tell us things were fine. Okay, a few distortions were being caused by low interest rates, and if you were dependent on interest earnings for living expense you were toast, but hey, the world looked great…or so most thought.
We were starting the FPB program, and the first FPB 64s were ordered. Their owners looked at their FPB 64s as a more secure investment than a lot of other asset classes.
We updated in 2010, by which time the real estate collapse had started to clear, based again on historically low long bond rates.
Fast forward to 2016 and the 11th FPB 64 financial vehicle has taken its investors to New Caledonia and back on a shakedown cruise. Rather than sit in a bank deposit, earning zero return (and a net negative after taxes and inflation), the funds have been paying dividends.
The post follows: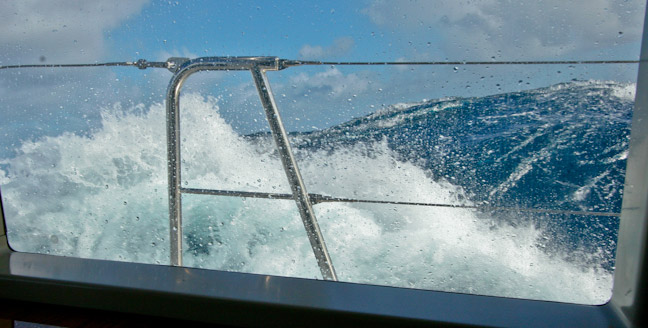 Here is what we wrote in the fall of 2008. We think it still applies.
Many of our land-based friends are in a state of depression, panic, and fear about the current state of affairs, and what the future holds.
As we have seen before in research we've done on heavy weather experiences, anxiety can induce a form of intellectual paralysis. This leads to inaction, which in the context of storm tactics at sea, rarely is the correct approach. We think the same can be said about the economy.
For us there are two basic questions in play. First, how does one protect their asset base? Second, how do you lead a fulfilling life while waiting for the inevitable turnaround?
We've been through economic cycles before. The last one that hit while we were cruising was in the early 1980s. Unemployment in the US was approaching 10% and interest rates were above 14% on long term mortgages. There wasn't much of a market for our designs, the cost of our cruising life style was about a quarter of a land based existence, so we stayed afloat. That was an easy decision.
Fast forward 25 years, and economic malaise is back (in different form). But the cost benefit relationship of cruising is still the same. If your asset base has been reduced, so has the cost of acquiring a good cruising boat. There may be less balance sheet to total up, but it will go a lot further in getting you out there where life is very pleasant.
Which brings us to the right boat for cruising in general, and for these times in particular. Since we are somewhat biased on this subject, we will admit up front that we think the FPB 64 is the ultimate vehicle in which to pleasurably ride out this economic storm.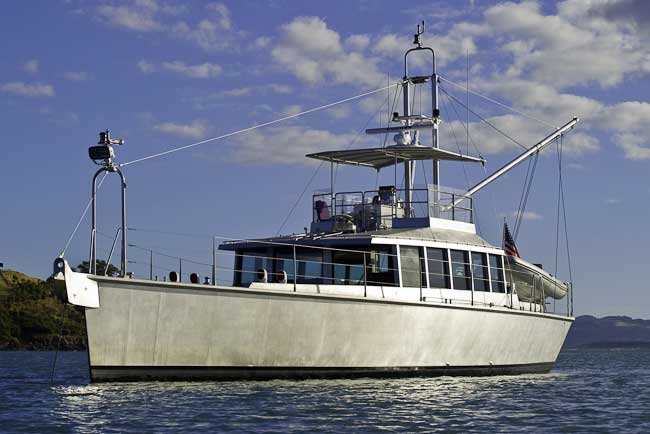 We are going to address some of the design features that make this so (a few of which will apply to other yachts as well).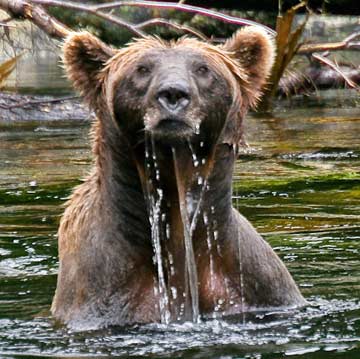 Bear Market Bomb Shelter
As we update this article in the summer of 2010 the stock market is selling at high multiples, implying a great future. Interest rates on US T-bonds are at extremely low levels and short term T-bills yield almost nothing. Tax free muni-bonds have great yields, but then what happens when the states cannot pay their salaries let alone bond interest and principal? Of course there is gold, but do you want to get into this at US$1500/ounce? And how do you hold it? Gold stocks, gold certificates, and related all have their risks.
And what currency do you diversify into? The US dollar is strong right now, but what happens in a year or two when those trillion dollar bail outs, so adroitly voted on in Washington, come due? The Euro, Swiss Franc, or British Pound? Their banking systems are in as bad (or worse) shape than the US. China might be a bet, but they do not allow foreigners to hold Chinese currency positions.
We are going through these deliberations as are lots of others. We can think of a few "safe" investments. Unleveraged commercial real estate with positive cash flow is a hedge in inflationary and deflationary periods. Short term sovereign paper in liquid markets is good for deflation and at least protects you against the capital loss of longer term positions when interest rates begin to reflect the increase in money supply – if you trust the issuer not to turn to the printing press to solve their problems.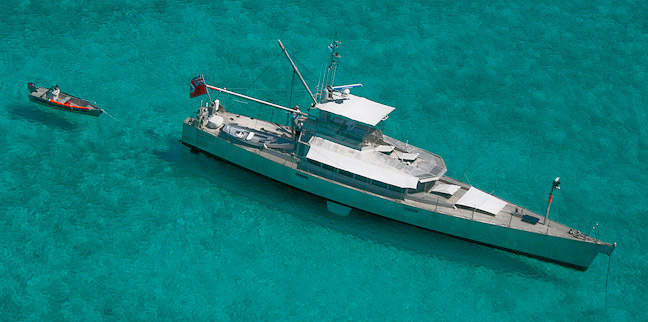 And then there is precious metal. Not the shiny yellow or silver stuff, but gray, as in aluminum. For us the FPB is the floating equivalent of a financial bomb shelter, the ideal asset class in which to ride out this financial storm.
The FPB 64 is efficiently priced, comes fully equipped for extended cruising, is inexpensive to operate and maintain, and when the time comes to change investment vehicles, you are not competing with a huge overhang of inventory in the brokerage market.
Best of all, you can comfortably cruise anywhere in the world – from the tropics to high latitudes – enjoying a wonderful life style for a fraction of the cost associated with existing on land. You are free from the daily grind of depressing news. Being away from the front lines makes for a clearer perspective, leading to better decision making.
The FPB is uniquely suited to these times. Consider the structure. Almost 1/2″ (12mm) bottom plate, enormously strong framing, three full watertight bulkheads and two partials, double bottom throughout the living area, huge fuel capacity, 3/4″ (19mm) toughened safety glass windows.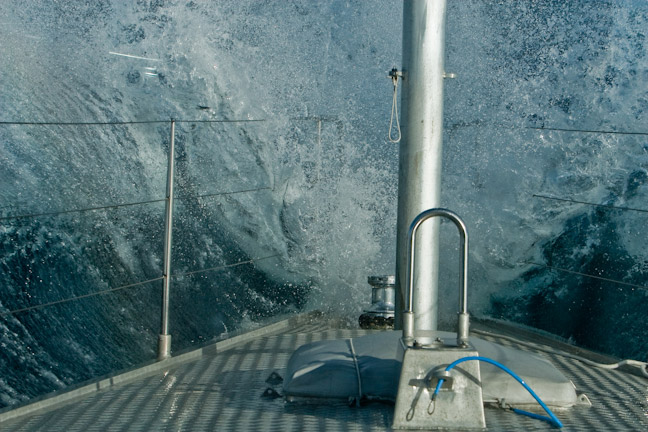 In short, a structure which has higher factors of safety with the ability to endure more punishment than any other yacht you can name. The shallow draft (4.5 feet (1.5m) opens up all sorts of safe havens (and great cruising grounds) denied to deeper craft.
And the quick average cruising speed, comfortable motion, and ability to deal with adverse weather, gives you a wide range of options on where to cruise.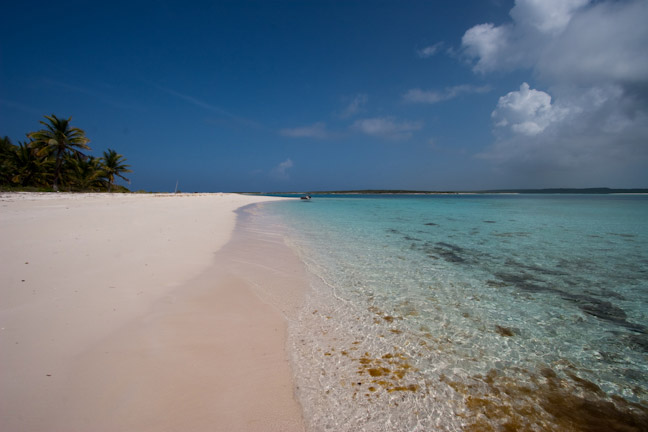 Bottom line. Would you rather be watching the markets seesaw on Bloomberg Financial or enjoying a tropical sunset in the South Pacific, the Bahamas, or Greenland?

Add in the security of knowing this asset class is going to take care of your lifestyle regardless of the economic situation in the outside world, and the decision becomes easier.
Image is Everything
Yachts represent an enormous sign of wealth. The further off the beaten path you go, the more you stand out. On a personal level this has always made us uncomfortable. Our preference is to remain low key, and to look as unyachtlike as possible. Given the stress of the world as it now exists, this approach takes on even more importance.
When we were developing the design concept for the FPB Series the ability to cross oceans safely and comfortably was paramount. Our next desire was not being associated with the typical image of the "wealthy yachtsmen".
For the FPB design we eventually settled on an aesthetic which is a combination of commercial and military. Commercial because of the rugged bare aluminum detailing, heavy rub rails, and working booms. Military because of long, lean, even somewhat sinister appearance.
There are subtle and not so subtle advantages to this approach. Consider first the town of Cordova on Alaska's Prince William Sound.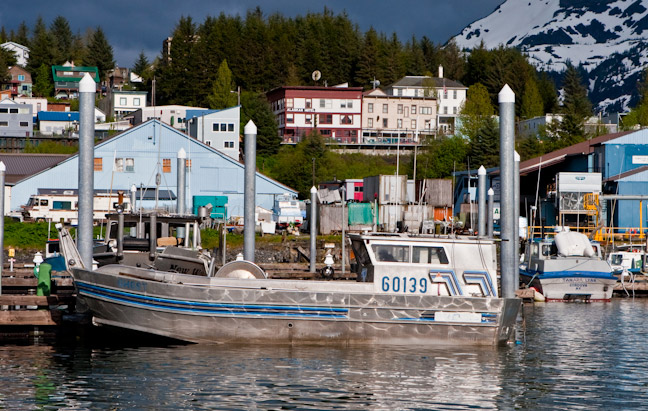 This is a wonderful, working class village, isolated from the rest of the world unless you fly or float in. The locals make their way mainly by fishing and logging. The seagoing professionals who crowd the marina understand the efficiency and sea keeping ability inherent in the FPB hull shape. They relate to the bare aluminum exterior (their own boats are for the most part similar). In short, our FPB fits their scene.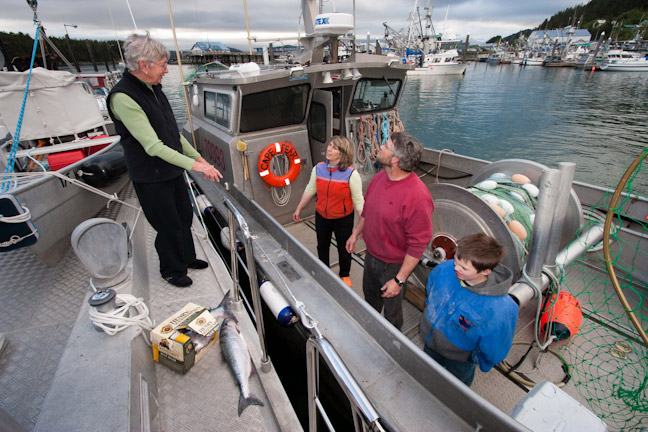 We are quickly accepted into the fraternity, something that would not happen if we were on a shiny plastic, show them what you're worth, style of yacht.
It is a source of pleasure when someone comes below expecting to see a workboat-like layout and is startled by the fit and finish of our lovely interiors.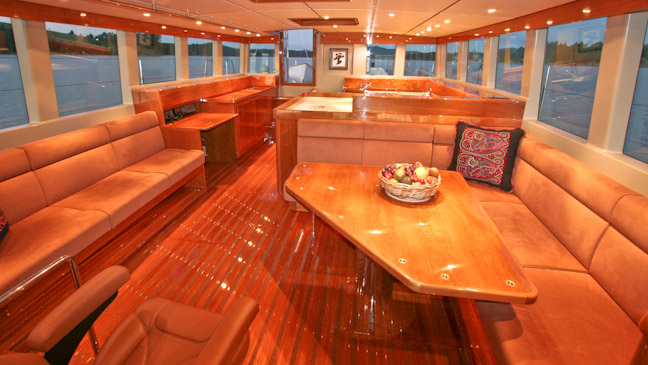 That surprise, resulting from the exterior to interior contrast, is exactly the reaction we want.
Then there is the military factor. We will use as an example our visit to Mexico's Magdalena Bay. Wind Horse is British flagged and flies a red ensign. As we were transiting the southern portion of Mag Bay we were hailed on VHF channel 16.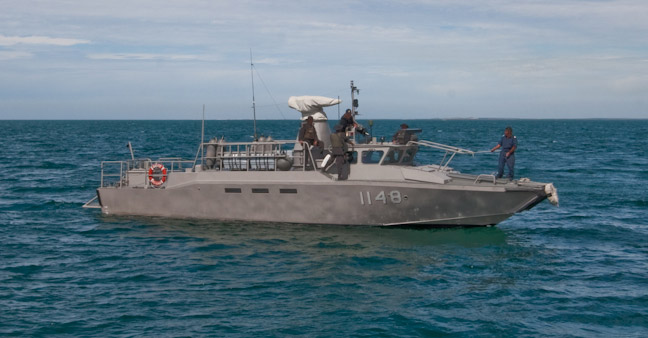 "British Warship, British Warship, this is the Mexican Navy." We were feeling very cool as the Mexican Navy asked what we were doing in their waters.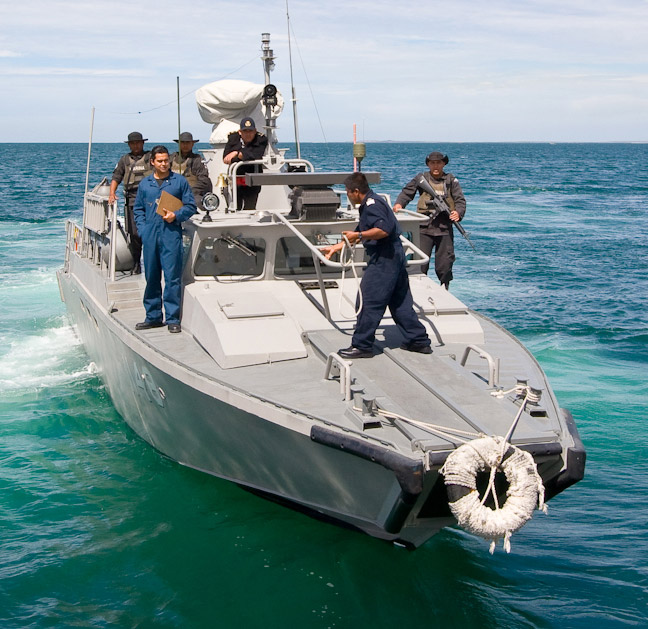 The young Mexican naval officer who boarded loved the FPB concept. He went so far as to suggest we don some form of uniform when we were transiting Southern Mexico and Central America (to maintain the militaristic image).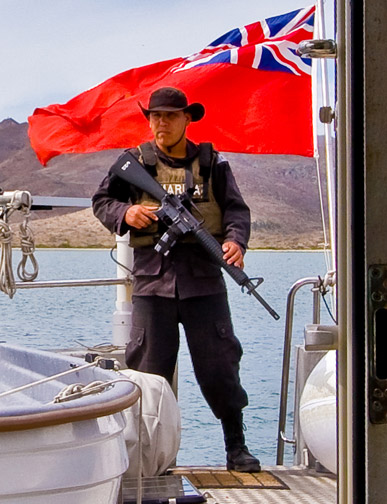 His marineros, nervously fingering the triggers of their M-16s were not so sure – exactly the impression (and reaction) we want.
Which brings us to the subject of bad guys on the high seas. There are always a few areas that you know to avoid, such as the coast of Somalia, parts of West Africa, and these days Venezuela. The rest of the cruising world is generally as safe or safer than big "civilized" cities. But as financial stress spreads, there are going to be more fishermen (and their land-based countrymen) trying to feed their families in any way they can.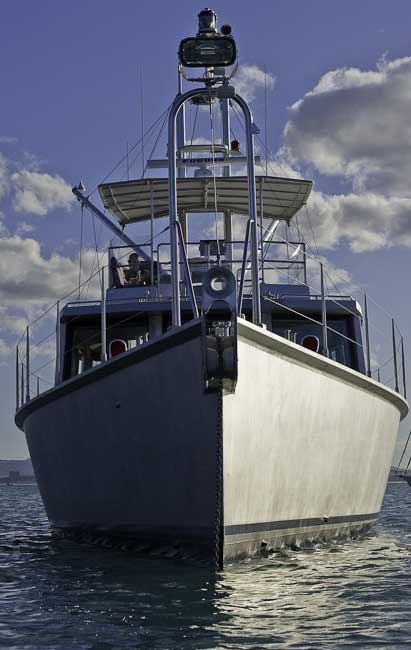 In this case, the question raised by our appearance is a huge advantage. Why mess with a lethal looking vessel when there are lots of other soft targets to engage?
Finally, let's discuss snob appeal (or ego gratification). For us, the last thing we want is to be identified with the "herd" in any endeavor. We don't like crowds, waiting in line, or wearing clothes with status logos. And if we are anchored or docked with a bunch of other yachts we do not want to look like a typical yacht cum trawler, all bulked up with high windage structure, which fairly screams "look at my money".
From our perspective, we feel a lot more comfortable in our laid back, military/work boat disguise. And if we are feeling the need for a little ego gratification, we can reflect on the fact that we have the coolest, meanest looking cruising boat around with capabilities far beyond what other yacht owners can begin to imagine.
Green Machine
Green is good the planet, for mankind, and makes for a much better cruising boat. It also has advantages in a turbulent world. As cruising boats go, we are as green as you get.
Take systems for example: we have huge fridge and freezer capacity, the ability to take hot showers of infinite duration, stay warm in the Arctic and cool in the tropics, and cook in a wonderful galley – all for an average of half a gallon per day (two liters) of diesel fuel.
To accomplish this takes a blend of construction (for example, six inches – 150mm of isocyanurate foam insulation on freezers) coupled with carefully engineered batteries, alternators, and AC power servers. At anchor the FPB 64's 11kW genset will average about an hour every second day. At this rate, you can go a week to ten days before doing a topping off charge while powering to a new anchorage.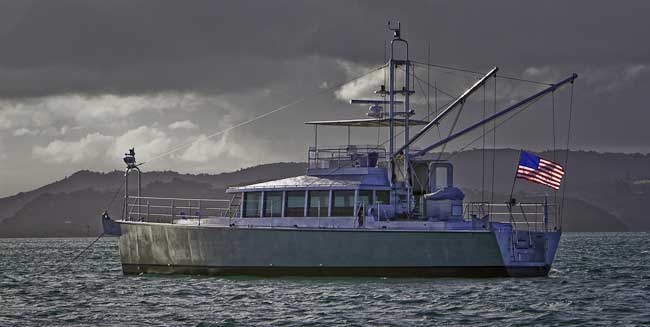 You have the option of lying quietly at anchor, away from shore power, for weeks (or months) at a time, with less charging time than the typical generator equipped sailboat. That makes you a more desirable neighbor in the cruising community, and means you can go a really long time between refilling fuel tanks.
Underway the same logic is at work. At a speed of 9.5 knots the FPB 64 will burn less than four gallons (15 liters) per hour – cruising faster while consuming a fraction of what trawler yachts burn at slower speeds.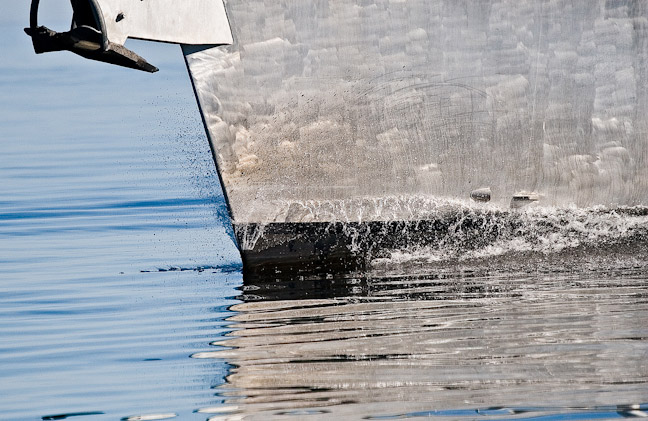 Less fuel burn results from lower power requirements, which in turn mean minimal noise, vibration, and pollution. You win in terms of onboard ambiance, neighborliness, and the planet (and your cruising budget) benefits as well.
And since we are discussing staying power while the world sorts itself out, consider just how long you can go between refills of those 3400 gallon (12,800 liter) fuel tanks. If you decided to move back and forth between California and Mexico for a while, avoiding marinas 100% of the time, you could make three round trips, live aboard for three years, and still have fuel left over.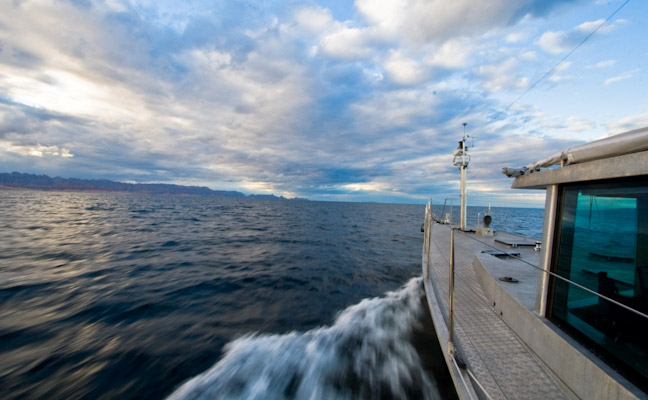 Scale the schedule between fill ups back to two years and you could do the same thing between the Eastern Seaboard of the US and the Bahamas, or New Zealand and the tropical South Pacific.
This "carbon footprint" is a fraction of what most of us consume for driving, flying commercial airlines, and taking care of electrical needs at home.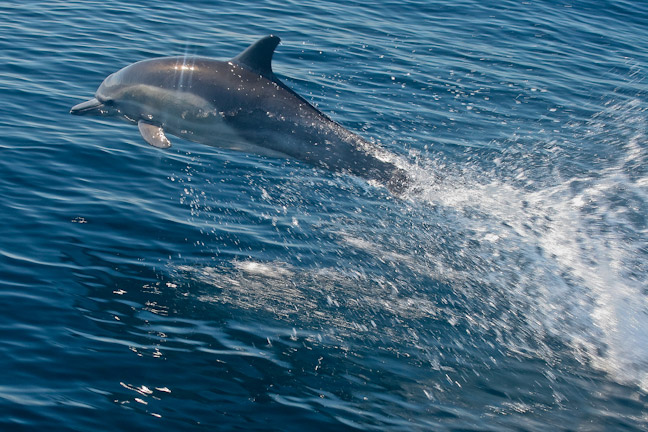 And as a bonus, it is way more fun.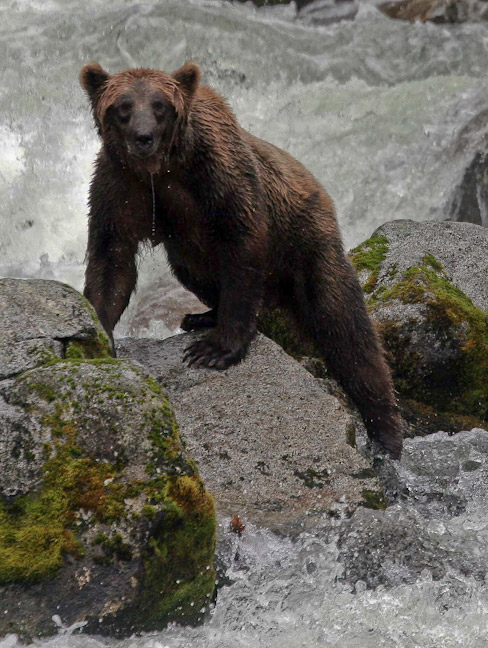 While we'd like to talk you into a new FPB 64, there are lots of used boat options, power and sail, with which to escape. So don't let the bear market environment get you down. Find a good cruising boat, cut those lines (and worries) that tie you to land, and go.
Now a word on the FPB 64 fleet about which we put together this page. Delivery for a new FPB 64 is roughly five years out, not very practical if you are looking for an escape machine as well as a wonderful cruising yacht. However, the news is not all bad. There are several FPB 64s now on the brokerage market.
FPB 64 Intro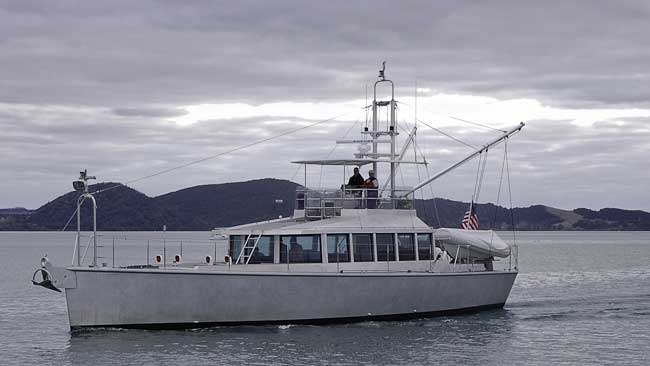 When we wrote this introduction six years ago, during the depths of a marine industry depression, we had no idea that the summer of 2016 would have 11 FPB 64s in the water cruising. For all the latest FPB 64 updates, click here.
First, some basic specifications:
LOD 64.95′ / 19.85m
LWL 63.6′ / 19.4m
Beam Deck 17.04′ / 5.22m
Extreme Beam (edge of rub rails) 17.72′ / 5.42m
Draft at half load (75,000 lbs/34 tons) Canoe Body 3.25′ / 1m
Draft at half load (75,000 lbs/34 tons) Prop Skeg 4.5′ / 1.37m
Full displacement 90,000 lbs /40,800 kg
Air Draft (top of masts-excluding whips) 25.75′ / 7.85m
Fuel Capacity 3400 US Gallons / 12,800L
Fresh Water Capacity 1800 US Gallons /6800 L
Minimum Range of Positive Stability 130-degrees (half fuel in one tank, full fresh water tanks)
Cruising Speed 9.25-10.0-knots
Top Speed 10.5 knots
Approximate Range 9.0 knots – 6400 NM
9.5 knots – 5500 NM
Note: speeds/ranges are for smooth water, 75,000 pound displacement, clean bottom.
By the time a new design is afloat and ready for trials we have invested so much energy in it that we almost don't want to see the outcome. But curiosity and commitment always has us on hand for trials, normally with a degree of apprehension (although we have confidence in the design methodology used, mistakes are not unknown in this business).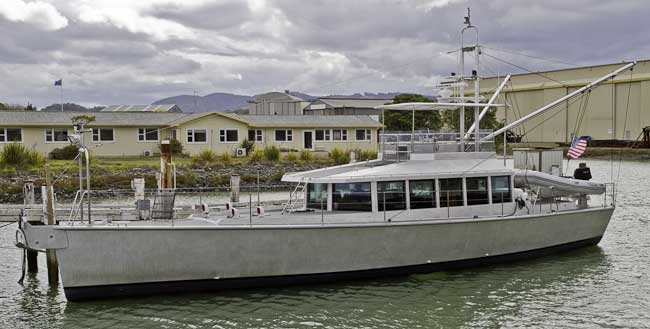 There are four phases for us in getting to know a new design. The process starts with initial impressions. These are a comparison of what we see afloat and the 2D and 3D computer models with which we have been working. There is always an initial mental scorecard: we like some things, are not pleased with others, and are occasionally pleasantly surprised.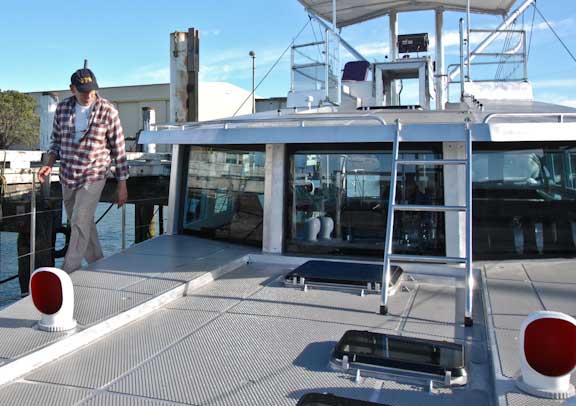 The second phase involves detail. During the first couple of days aboard we'll make copious observations about small details that could be fine-tuned the next time around. These are rarely noticed by builder or owner and we have learned that if we do not write them up early in the process, the information is soon lost in the overall impact of the design.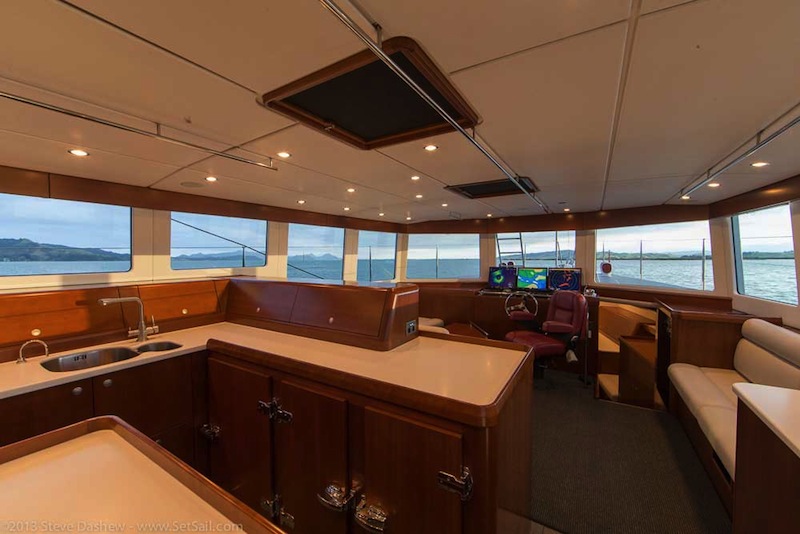 The third phase takes time. We need to live with the boat for a week or two, hopefully in a cruising context, to see how the pieces fit together. Using the boat at anchor, moving her about, feeling the motion, maneuvering in tight spaces, even launching and retrieving the dinghy are part of this process.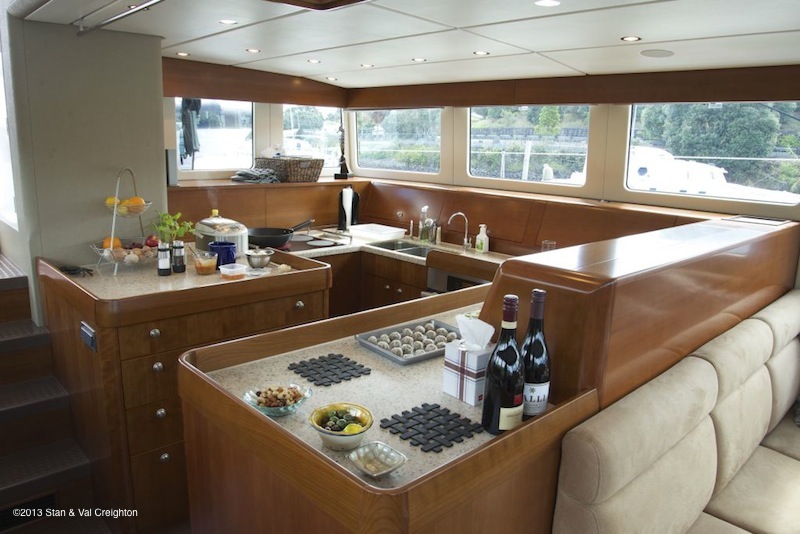 The final phase comes later. It takes a period of time away from the boat to digest all of the elements, and decide what we think of the outcome. It is these last thoughts that we want to share in this blog. We'll start with some history and comments on the design goals.
Read a July 2013 update on first seven FPB 64s out there doing it.
Design Provenance
The FPB 64 design is a continuation of a process that started 35+ years ago – the search for the perfect passagemaker. Although the FPB 64 looks a little different, it shares a common set of goals with our Deerfoot, Sundeer, and Beowulf series of yachts. These are:
Structural integrity with high factors of safety.
Balanced lines and large rudders for heavy weather control.
Design tradeoffs oriented toward maximum comfort at sea.
The ability to maintain high average passage speeds.
Efficient systems optimized for use at anchor away from the shore power grid, and not generator dependent.
Good access to systems for inspection and maintenance.
Operation by a couple.
Watertight bulkheads.
Interior layout optimized for comfort and security at sea.
Minimum draft commensurate with performance goals.
In addition, with the FPBs we want something rare in motor vessels (but common under sail), a stability curve that allows for recovery from a capsize, without which we would not consider crossing an ocean.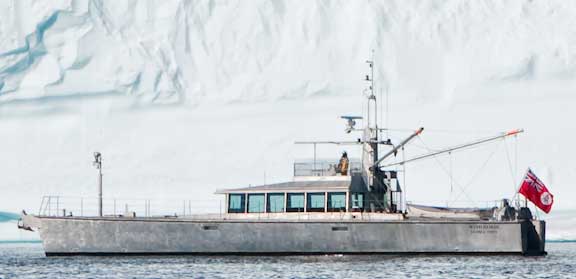 Visitors to the FPB 64 will look at the design and think, "This is a little sister to the FPB 83" (Wind Horse in Greenland's Disco Bay is above).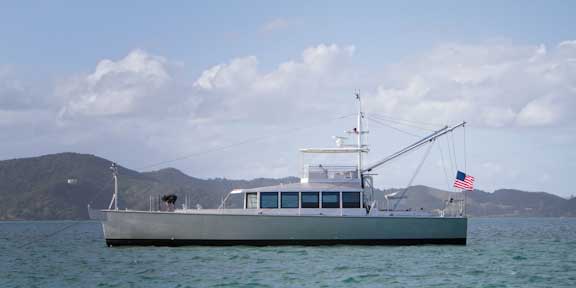 True, they do share a common heritage, and what we learned from all those thousands of miles aboard Wind Horse form a basis for the FPB 64, but this new design is very much its own configuration.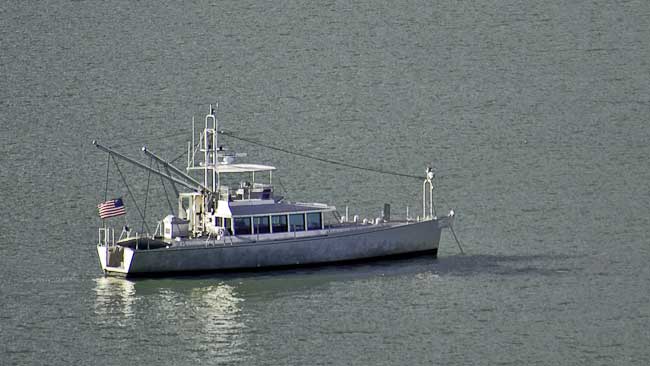 With 5.5m/18 feet less waterline, we are asking the FPB 64 to efficiently carry comparable payload, for similar range, while delivering most of the positive attributes we have come to love with the FPB 83. This is not an easy prescription to fill.
Quick Recap
This is a really long article, so we thought a brief recap of the FPB 64 design and highlights we've seen from sea trials is in order:
Toughest structure with highest factors of safety we have ever used.
Three full and two partial watertight bulkheads.
Double bottom formed by fuel and water tanks.
Over 5,000 nautical mile range at 9.7 knots (full load, smooth water) confirmed with real world testing.
Excellent maneuverability without using the bow thruster.
Aft deck layout works better than expected and barbecue, in lee of house, is a great add.
Flying bridge ergonomics are excellent. New awning and frame system works well.
Interior layout, starting with entry landing is on target. The feeling of spaciousness is as expected. Galley, ship's office, and owner's suite all work as envisioned.
Engine room layout allows good access and is visually appealing.
Systems installation is first rate.
11 knots top speed at full load from 236 HP confirms efficiency.
It is going to be great cruising with less than five feet of draft.
From here on out we are going to review specifics, most of which are covered in greater detail on SetSail posts.
Click here for details on FPB 64-2 Sarah Sarah. And here for Iron Lady & Osprey details.
Structure, Displacement, Center of Gravity, and Safety
The design process starts with a target displacement and center of gravity for the boat in cruising trim. A preliminary set of lines is drawn to float this displacement, and then we begin to look at variations in hull shape.
Some designs are sensitive to weight, others are less so. Not too far into the design cycle we realized we had a configuration that could tolerate substantial weight in the hull plate and framing, if we wanted higher factors of safety. At the same time, there was a generous helping of fuel, water, personal gear left over.
The FPB Series are engineered to the Lloyds Special Service Rule (SSR), a very conservative scantlings specification. This forms a baseline. Wind Horse, the FPB 83, is framed and plated to effectively twice the SSR rule stiffness requirements.
It might appear that just making the structure stronger, and heavier, is all to the good in terms of safety. But excess weight in the wrong places will compromise stability, and sometimes lead to a slower cruising speed in adverse weather. Indiscriminately throwing weight at structure is never a good idea. But if weight is in the right places, and you can tolerate it and still achieve the performance objectives in terms of cruising speed and stability, then it can be worthwhile.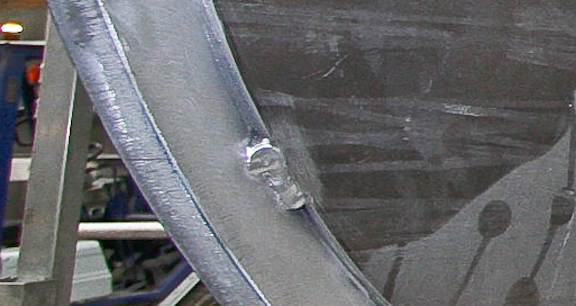 The bottom and topside plating for the FPB 64 are 12 mm/15/32″ and 8mm/5/16″ respectively. These are multiples of the SSR rule stiffness requirement, substantially more than anything the sea will call for. But aground on a reef, working in ice, or impacting a shipping container, the extra factor of safety is going to come in handy. The cutwater, shown above, is a massive 40mm/1.6″ thick (shown above with the 12mm bottom plate tack welded in place).
Another part of the design security are the watertight bulkheads and the double bottom formed by the integral fuel and water tanks. Consider the following list:
Forward collision bulkhead.
Aft end of forepeak/forward end accommodations full watertight bulkhead.
Forward end great room partial watertight (to 200mm above the full load waterline (40,000 kg/88,000 lbs.).
Aft end great room partial watertight bulkhead as forward.
Engine room full watertight bulkhead.
Forward water tanks to within 350mm/14″ of full load waterline.
Center fuel tank top 50mm/2″ above full load waterline.
Aft water tanks 350mm/14″ below full load waterline.
Practically speaking this combination of over-specified structure, watertight bulkheads, and double bottom may never be tested.
But the fact that you know it is there gives great emotional comfort, as long as you are not paying a major penalty elsewhere.
Another part of this equation involves payload, both personal, ships gear, and liquids. Within the definition of full load are the following allowances:
Fuel and water – 11,600 kg/25,600 lbs.
Spares, tools, ground tackle, personal gear – 3,600 kg/8,000 lbs.
Evaluation of how the design meets its goals has to be done in the context of a fully loaded condition, with the factors of safety inherent in the scantlings described above.
Boat Speed, Fuel Burn, and Range
For recent real world data during four contentious passages, click here.
In smooth water, no wind, full load configuration, the FPB 64 is hitting its numbers as predicted (we'll just discuss the highlights here):
At 8.6 knots we are burning 11.8L/3.12 gallons an hour which gives smooth water range of over 9,000 nautical miles.
At 9.7 knots fuel burn is 18.9L/5.0 gallons per hour with a range of 5,700 miles.
Top speed at full load is 11 knots, not bad from a 236 HP engine.
So, we've got the ability to carry lots of payload, quickly and efficiently, with extra factors of safety discussed in the preceding section. We think this makes an excellent foundation for the rest of our evaluation.
You may be wondering "Why do you need all that range?" At 8.6 knots you could cross the Atlantic four times before running out of fuel. The answer is multi-faceted. But a short recap of reasons are:
Having several years' worth of cruising capability means that disruptions in the fuel supply chain does not impact your plans.
You are able to pick and choose between sources of fuel, waiting for the best price and quality.
If you don't need or want this much fuel aboard, the weight can be made up with fresh water (or you can cruise lighter).
Interior Layout
This interior includes a number of difficult design decisions and tradeoffs, and was the subject of much computer and real world modeling. Seeing the boat under construction, where the view out from the windows is blocked, with the interior space in a state of visual chaos, makes it difficult to get a feeling for how the final product will look once launched. Of course we have a pretty good idea based on experience. Still, it is a relief to see the interior completed.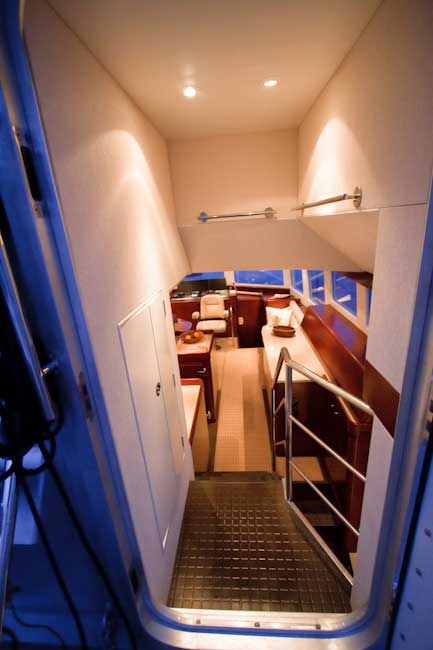 We and Circa wrestled with the entry landing area and access to the aft end of the accommodations. This was mocked up and changed in situ three times. In particular, the landing handrail system, about which we obsessed, is not an aesthetic problem, yet provides excellent security. The effort was worth it.
For recent interior shots on FPB 64-6 Grey Wolf, click here.

Recent galley option details and other specifics are here.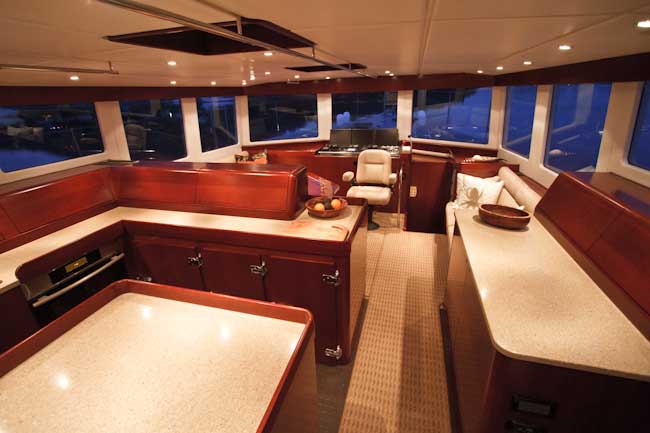 The space flows, has an open but protected feel, and invites you into the great room.
The division of the great room space between galley and salon/bridge area was the subject of much debate within our office and with clients.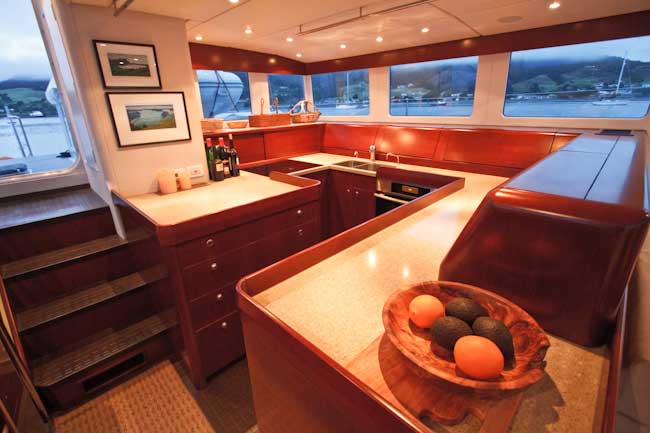 On paper, the galley looks enormous, almost out of proportion. But it, and the salon area, work well together. This is the best galley we have done yet, with wonderful storage, lots of counter space, and substantial fridge and freezer capacity.
Check out interior details on FPB 64-5 Tiger.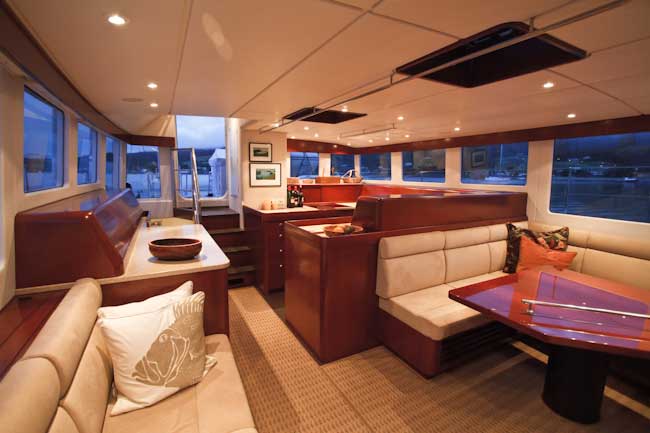 At the same time, the space devoted to the salon, while a touch smaller than the galley, is just right aesthetically and very functional.
The settee to port is comfortable for sleeping and the shorter seat to starboard works for watchstanding and reading a book with your feet up.
During sea trials we asked the first four sets of owners what they thought of the distribution of space in the great room, and would they trade galley space for a larger salon. The uniform answer was "No".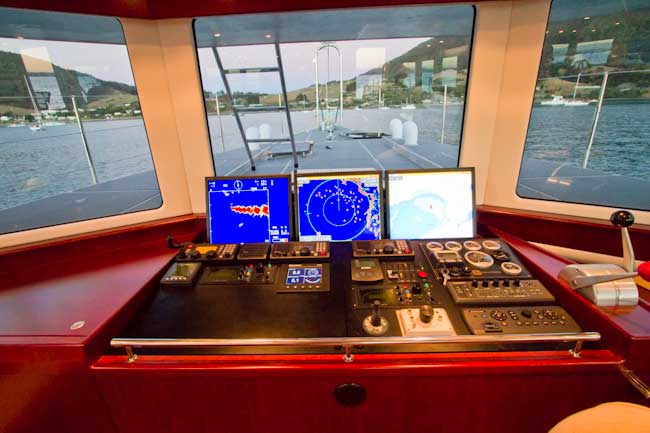 The bridge area ergonomics have come out well, with good sight lines, easily read instrumentation, and key controls within reach when seated in the helm chair.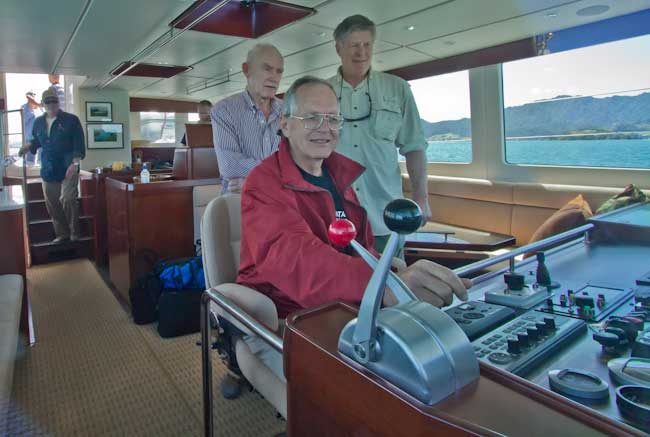 You can get feel in the photo above for how this works underway.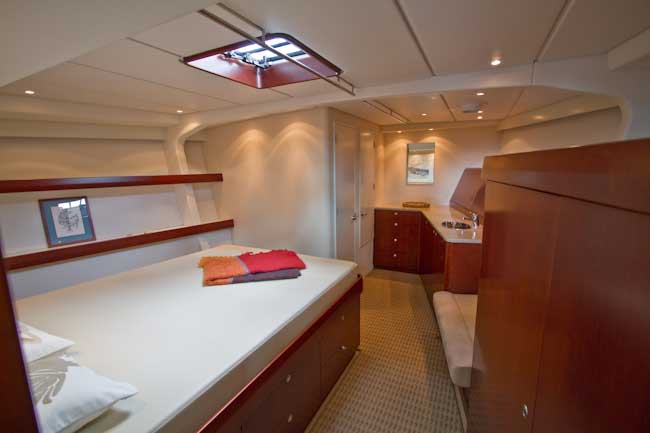 The forward owner's suite has a familiar layout to it if you have seen our yachts before. The interior beam and starboard side length, when combined with artwork on the bulkheads, gives it an ambiance, and a feeling of spaciousness that is just wonderful. The couch midway on the starboard side, while costing storage space, is a worthwhile visual and functional element.
One of the design targets from the beginning for the FPB 64 was a large ship's office.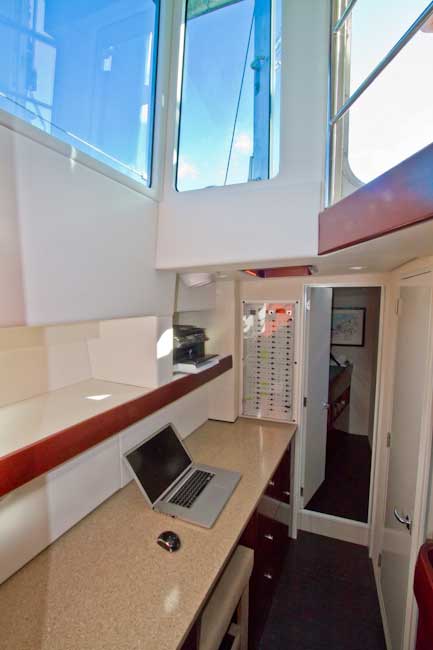 The entry to this area, with the cathedral ceiling and large windows above, is magical and the natural light a boon. Having spent three days aboard using the office daily, we can attest to its efficacy.
Likewise, we had a chance to test the single bunk crew cabin on the aft starboard side. We are happy to report that the bunk is actually quite adequate, as is the storage for personal items. The head works well, but then this is no surprise as we've used similar designs in the past.
We like the interior, a lot.
Click here to see detailed engine room interior shots on FPB 64-6 Grey Wolf.
Deck Function.
Deck design, like most things to do with yachts, has a complex set of tradeoffs.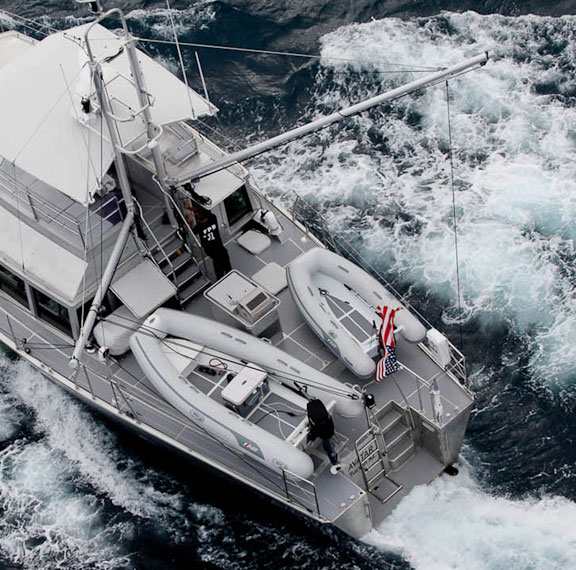 The design has to provide storage for dinghies, lounging areas, working space when docking, ground tackle and dockline handling systems, as well as many other small but important details.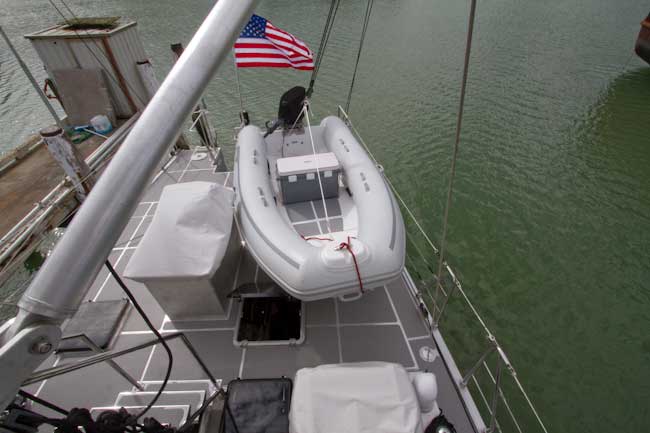 A key design target for the FPB 64 was a barbecue positioned in the lee of the house at anchor (the wind break provided by the house makes this much more user friendly). The barbecue and wash-up sink are integrated with the engine room air intake. This arrangement performs a number of functions besides the most apparent. The handrail which surrounds the cabinet helps when coming down from the flying bridge, and is a safety feature when transiting aft. The cabinet also acts to stop the swing of the dinghy when bringing it aboard in a bouncy anchorage.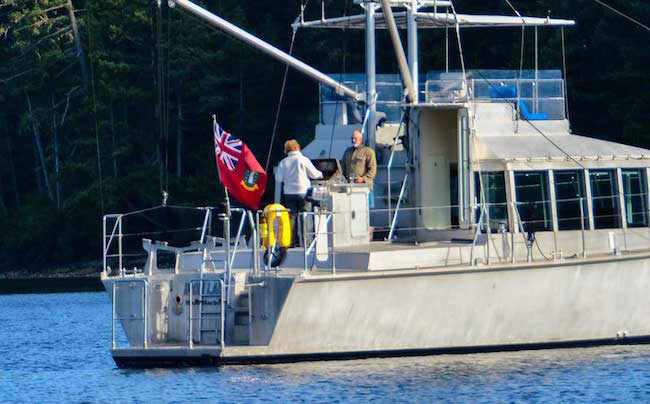 Having seen the barbecue in action, we can attest that it works well and is definitely a worthwhile addition.
We were a little worried about engine room noise escaping from the air intake. However, the insulation and baffled design trap what noise there is, and at the flying bridge you cannot tell if the engine is running.
The next issue is dinghy storage. The owners of the first FPB 64 have pushed this to the max, with a 2 meter wide by 4 meter long inflatable (6.6′ x 13′). It worked in our 3D modeling, but we were frankly dubious. The owners were right – it fits well – and does not impact foot traffic.
With the big inflatable in place there is room for a second rowing or sailing dink to starboard, or the lounging area we have worked up will also fit nicely.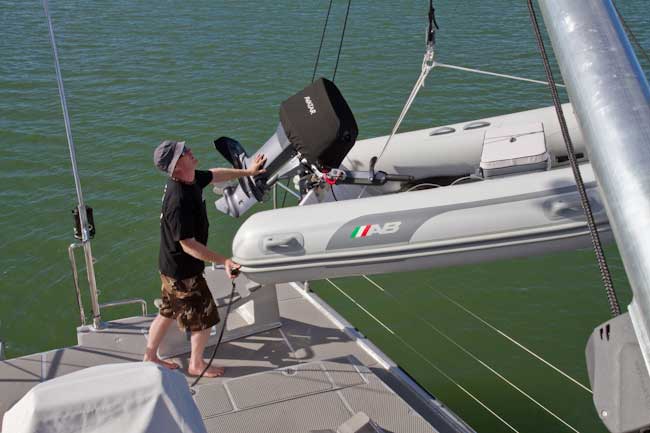 The aft power winch is well sited. In particular, the aft position makes single person launching of the dinghy practical in calm conditions.
Flying Bridge.
Another difficult design area was the flying bridge.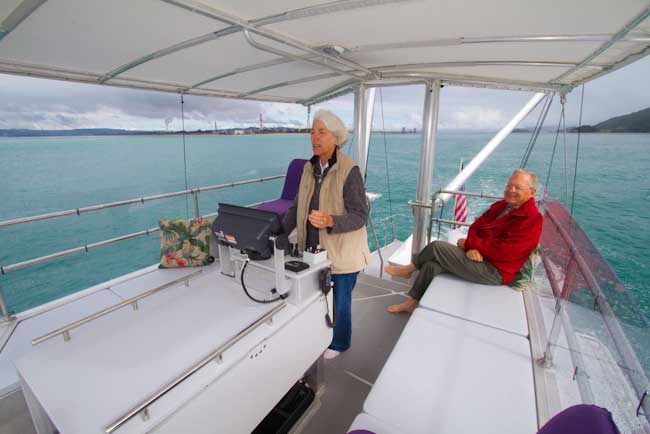 This needs sufficient space for entertaining, ideally protected to a degree, with a layout conducive to taking meals at this elevated position. And you need to be able to con the boat from here.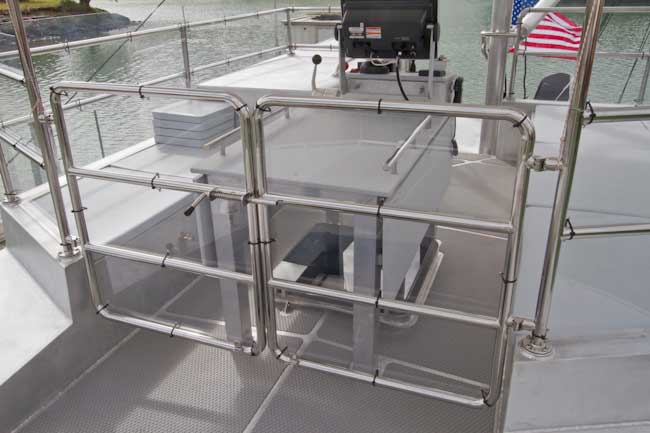 In all regards the FPB 64 flying bridge area works. In particular we like the forward entry gates, which allow easy access to the forward end of the deck.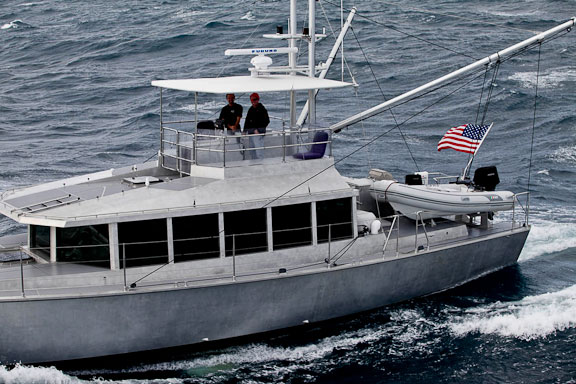 The awning pipe framework is both functional and aesthetic. A small but important detail, which will come into play later, is the inner lacing rail on the awning frame directly over the stainless steel handrails. Should a full enclosure be desired, these two parallel areas of pipework form natural attachment points.
Single Engine Maneuverability
We have lived with single engine maneuverability for most of the past 30 years and not found it a problem. But Wind Horse, with its twins, opened our eyes to the advantages of even better close quarter maneuvering, and where it allows us to go.
Watch video of FPB 64-7 Buffalo Nickel practicing close-hand maneuvering.
Although the FPB 64 has a single engine, five factors theoretically contribute to better maneuvering:
Over-sized rudder.
42+ degree rudder deflection.
Fast rudder action.
Elimination of the keel.
Rudder and propeller relationship.
Hull shape profile.
So how does this work in the real world? The first question we wanted to answer is control in reverse and if the boat can be backed up. This ability, or lack thereof, has a huge impact on close quarter maneuvering options.
We expected a fair amount of pull to starboard but were pleasantly surprised by an almost total lack of offset torque in reverse. Basically, if you start reversing with the bow 15 degrees to starboard, within a couple of boat lengths you are going straight, with a degree of steering control. Backing down a long narrow channel is definitely a possibility, as long as this is done with the stern upwind.
The next question is turning radius at maneuvering speed. Here we found that a generous application of forward thrust against a fully deflected rudder results in an amazingly tight turn, on the order of just over a boat length.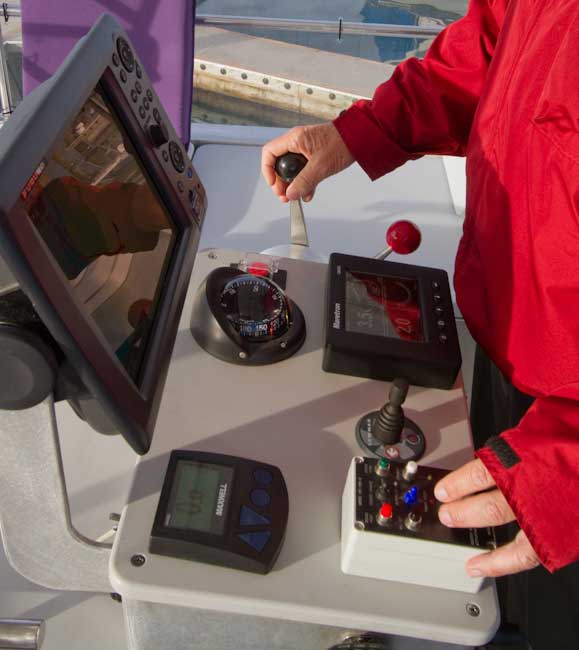 Rotating the boat, using alternating bursts of forward and reverse can be done in either direction, but the favored turn is counterclockwise using what little stern torque there is to pull to starboard as the bow goes around to port. Fly by wire steering with fast rudder response is a great help.
Bottom line, we are very impressed with the maneuverability, and the bow thruster will rarely be needed.
Motion
Now we get to the heart of things. Comfortable motion is the key to cruising success. If you don't pay a comfort penalty for being at sea, the boat gets used more, and the reluctance to take on long passages transitions to an eagerness to be off.
While our experience with the first FPB 64 was limited, we saw enough variety of conditions to get a feel for how she is going to do crossing oceans.
Let's start with beam seas. Rolling motion is essentially nonexistent, other than what we allow by detuning the stabilizer control.
With quartering or stern waves again there is little, if any, motion.
In both beam and downwind states only a fraction of the stabilizer power is being used, leaving lots of capacity left over for gale force conditions.
We did a considerable amount of testing without the stabilizers and found the rolling motion to be soft, without a huge amount of amplitude. Faced with an ocean crossing and a faulty stabilizer system, in most cases we would proceed rather than delay (and there are stabilizer "fish" which can be used off the booms in the event the NAIAD system has a problem).
Designing for upwind comfort is a lot harder than beam or downwind conditions. With the FPB 64 and its relatively heavy (for us) displacement, we had the opportunity to develop the bow and stern hull sections in such a way as to soften the ride. We also were keen on allowing the hull to pitch a little more than Wind Horse or our sailing designs, to reduce acceleration and deceleration as waves move down the hull.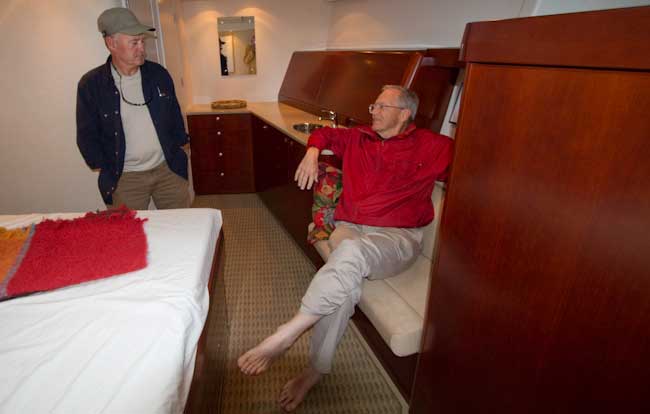 The photo above of two of our owners having a discussion in the forward cabin was taken running at 9.5 knots into .9m to 1.6m / three-to-five foot waves. It wasn't staged, they just happened to be chatting when we snapped the picture. This dialogue is taking place in the center of what we refer to as the "slamming zone" or the area of greatest wave impact uphill.
We are still learning how to optimize for upwind motion. However, two things are apparent. First, keeping speed up is essential. In short steep seas of the type found along shore, the FPB 64 is happiest a t 9.5 to 9.7 knots. Longer period waves offshore may allow slower speeds. The FPB 83 Wind Horse reacts in similar fashion – she wants to be run at the top end of her cruising speed range going uphill.
Second, it appears as if upwind motion will benefit from aft trim, carrying a full aft water tank, and minimum fresh water reserve forward. This moves the center of buoyancy aft directly over the center of floatation, the ideal in terms of pitching.
Steering Control At Sea.
With our type of hull shape, softening the uphill ride is not difficult. Doing it in a way that preserves good steering control at sea, in particular with the waves behind, is a lot harder.
The deeper the forefoot and more V'd the section, the better the upwind ride. But deep sections forward tend to lock in the bow, and create a bow steering issue with the waves aft. This is a universal problem with trawler types, forcing them to slow down with the waves behind because of comfort and control issues. As the weather deteriorates, the lack of downwind control and risk of broaching forces them to turn around and jog into the seas.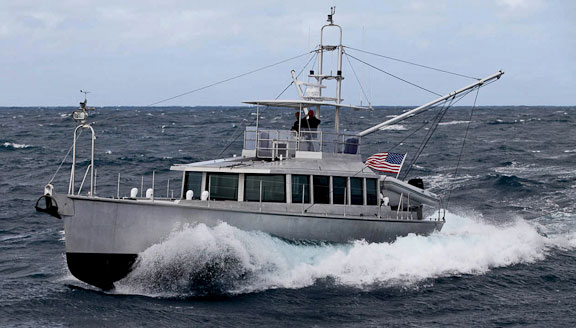 We are pleased to report that the FPB 64 exhibited no tendency to bow steer, and she needed little assistance from the autopilot to stay on course. In several instances with waves behind we turned rudder gain to zero and deadband to a maximum eleven degrees – essentially the pilot was turned off – and the FPB 64 ran like she was on rails (all of which you can see on the previously referenced video).
Engine Room and Systems
If a comfortable motion is key to going places, systems installation and the engine room are at the heart of the cost of cruising and frustrations (or lack thereof) associated with the cruising lifestyle.
Over the years we have learned the following:
Insure that all systems can be easily inspected and maintained.
Over-specify equipment and it will have a much longer, trouble-free life.
Keep things as simple as possible while still providing for a comfortable cruising ambiance.
Design systems that are optimized for efficiency at anchor, without the need to resort to constant running of the genset.
The systems approach on the FPB 64 is similar to what we have been doing for decades, updated to current technology.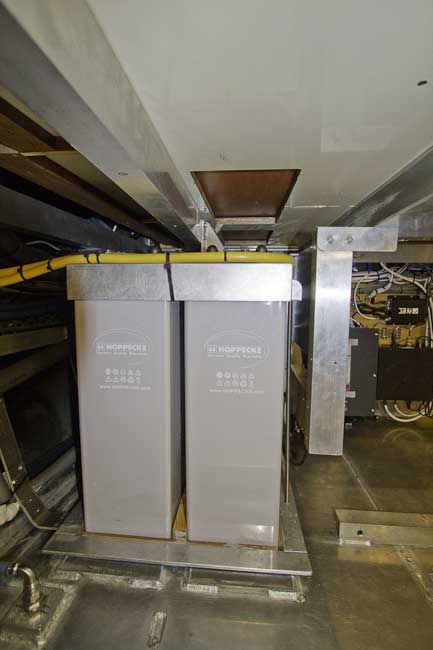 It starts with "traction" batteries with the capacity to go for days at anchor without use of the genset. AC power is provided by the inverter bank, with an occasional assist, maybe every other day, from the genset. The majority of battery charging takes place underway with a pair of 150 amp/28 volt Electrodyne alternators with remote rectifier assemblies.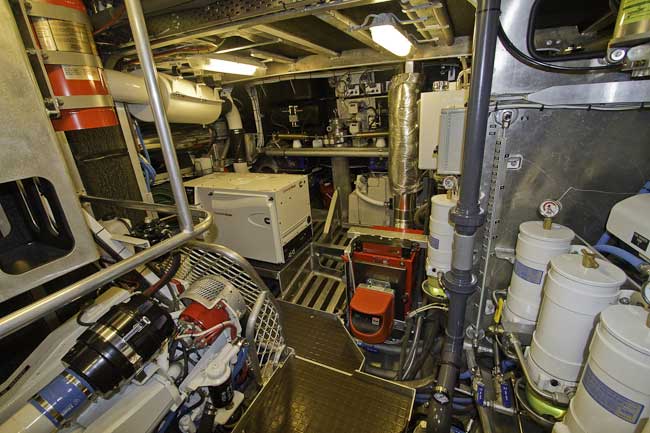 Systems reside in a large engine room, and around the perimeter of the "basement" below the great room. In both cases access is excellent.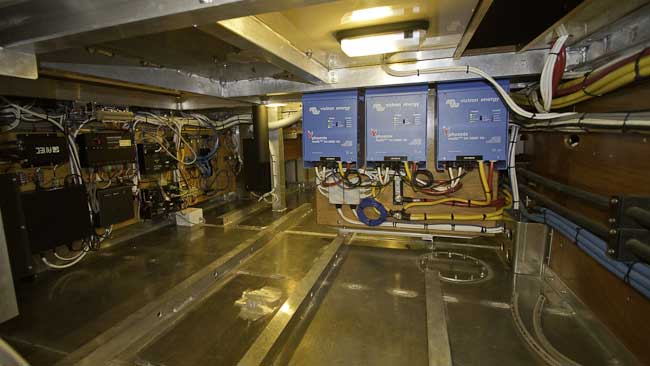 Many of the systems are normally not visible. However, as owners we like to know that the hidden details, such as those in the basement (photo above), are as nicely done as those in view. It gives us a sense of satisfaction, pride in ownership, and emotional comfort, knowing that if systems are installed with care the level of reliability is likely to be higher.
Circa's systems installation in the engine room is to the highest standard we have ever seen on a production yacht – truly a work of art.
"Rig" (Fore and Main masts)
Both fore and main masts are evolved from Wind Horse.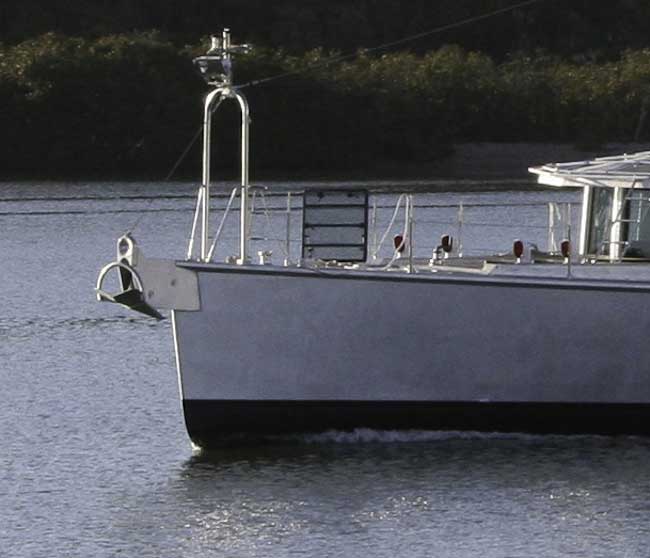 Starting with the foremast, we have gone to a double-legged stainless configuration. There are a variety of nav, deck, and flood lights positioned here. The "bobstay" (inverted) from the foremast down to the end of the anchor sprit is great for holding on to when working on the pointy end.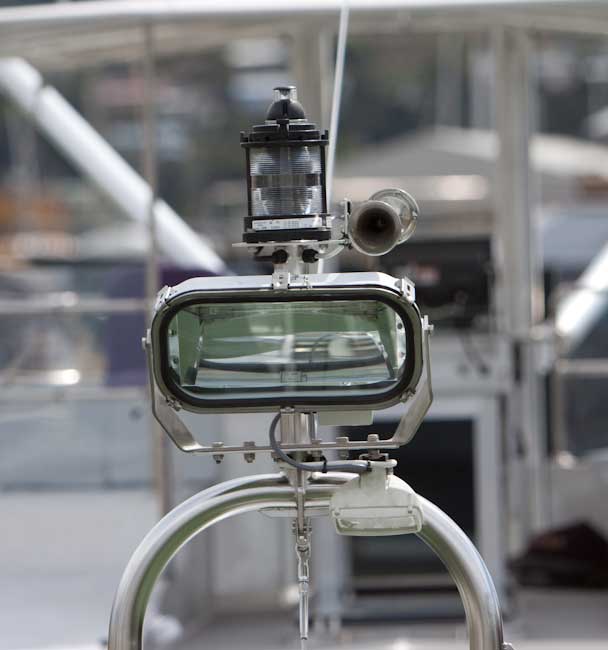 The forward position of the mast makes the large floodlight more effective in spotting debris in the water (it can be aimed down without hitting the boat).
The mainmast assembly is hinged for storage, maintenance, and cruising where there are vertical impediments (bridges). This feature will become much appreciated over the years.
Each main mast comes with stout 6m/20 foot boom. These booms simplify dinghy launching, work with roll control devices at anchor, and with the get-home sail rig. They are easy to use with permanent fore and after guys leading to rope clutches, halyards on the ends of the booms, and dinghy lifting halyards.
The "headstay" between main masts and foremast provides a natural long wire antenna for SSB and amateur radio bands.
The shorter foremast and longer mainmasts make this technically a schooner rig. Whatever you call it, the rig looks cool and does valuable work in a cruising context.
Length Overall
There are many factors that go into picking length. In the case of this FPB, we could have forced the design into something in the 58 foot /17.8 meters range. However, it is a much nicer boat at just under 65 feet/20 meters. We get better speed and range, more space for accommodations, more accessible systems, and less bulky proportions.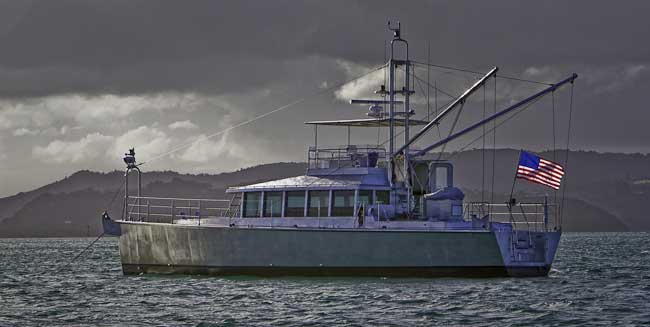 And we avoid the regulations which start at 20 meters/65 feet.
Having now seen how the FPB 64 works, we are very happy she wasn't compressed.
Volume and Seagoing Performance
The marine industry tends to create yachts that look good in boat shows and marina settings, but that are not optimized for crossing oceans. This leads to beamy, tall, high-volume configurations for sail and power. If you plan on local cruising, and can stomach the appearance, this approach can be considered rational. But once the horizon beckons, the negative seakeeping impact of the proportions that create the volume has to be carefully evaluated. There are both comfort and safety issues to be considered.
Our concept for the past 35+ years has been to design for the worst, creating a configuration which is both safe in heavy weather, and comfortable in an ocean crossing context, including when conditions are less than ideal. This leads to more miles by our owners – attested to by the multiple circumnavigations done by many of our yachts (and Wind Horse's 45,000 miles between launching in 2005 and the fall of 2009).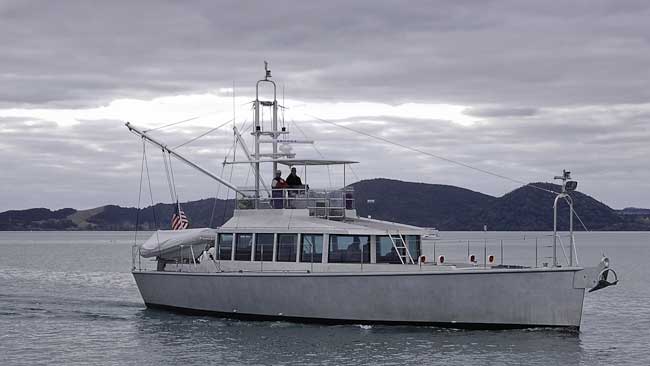 The lean, efficient designs to which this philosophy naturally leads also look very cool. But then, we might be considered biased.
Get Home System
We've been testing a variety of options for a get-home sailing rig, and working with the owners of Avatar and their Skipper Rod Bradley, have come up with a configuration that is easier to use and more efficient than our original concept.
Essentially this is a small roller-furled sail, rigged from the end of one of the booms to the forward mast. There are two tack points forward, one at the top of the foremast and the other lower, with the sheet led to the rail, and then to the coaming winch aft of the house.
The rough prototype sail is about 28 square meters/300 square feet, and does a surprisingly good job at pushing the boat.
In the event of propulsion failure on a passage here is what we have observed and/or has been reported by Avatar's crew:
Use the bow thruster to get the bow pointed downwind for comfort and to make working easier.
It takes 2.5 knots of flow over the rudder to maintain steering control.
The current get-home rig can sail as close as 110 degrees to the wind, depending on sea state (possibly better when we get a properly shaped sail). The key is keeping boat speed high enough so the rudder is effective.
Ideal true wind angle is 140 to 150 degrees.
In 18 knots of wind, Avatar sails at 3.7 knots on a broad reach. That's 80+ miles per day. It might not be fast, but it would get you to an off-the-wind destination, even it was several thousand miles distant.
Having a single roller-furled sail simplifies handling. Rigging is relatively easy and the rolled sail is compact and simple to store. Some owners may want to have a second lighter and larger sail, for lighter airs.
In addition FPB 64s now come equipped with a small Yanmar "get home" engine, which has proven to drive the boat well in 25-30 knots, achieving speeds of 7-7.5 knots quite easily. (For more information on the Yanmar get home addition click here.)
What We Think
You may have guessed that we like the FPB 64. At its price point it is, without a doubt, the best cruising yacht with which we have ever been associated. All the elements that go into designing and building a yacht like this work efficiently together. The boat speed, fuel burn, range, layout, motion, maneuverability, and systems create a whole which is greater than the sum of its parts. We are used to hitting our targets, but the FPB 64 is on another plane.
A final thought. This project has been very much a group effort. From Bruce Farrand and his team at Circa Marine, to Kelly Archer, the many suppliers, our owners, and project managers, it would not have turned out as well without extreme effort on everyone's part.
Want to learn more? Contact Sue Grant: Sue.Grant@Berthon.Co.UK for full details on the FPB 64 program.
FPB 64 Owner Blogs
There is nothing we can write about the FPB 64 that owners can't show better with their own experiences. Check out some of their fantastic photos and stories of cruising:
FPB 64-3 Iron Lady–now Toccata–Blogs
Note From Sue Grant
Please ask us about the pre-owned FPBs 64s that we are offering. All have been well maintained and are ready for more adventures, unhampered by the worry of currency shift and the geopolitical situation. They have a unique place in the brokerage market, as they offer the opportunity to go further and do more in terms of blue water cruising than anything else in class. As a result, residual values remain firm and we expect this trend to continue.
The FPB Program is committed to providing the very best in after-sales care, as well as a full program to enable new members of the FPB family to learn their yachts and to be properly supported through their ownership of them.
Available FPB 64s
Select Press on FPB 64s
Motor Boat & Yachting: "FPB 64 – A Soul Like No Other"
Berthon Magazine: "All The Reasons We Cruise"
Boat International: "Look Who Stole The Future"
Yachting World Editor Matthew Sheahan: "A Sailor's Motor Yacht"
Motor Boat & Yachting: "The Long Way Back"
Passagemaker: "The Minerva Option"
Posted by Steve Dashew (December 19, 2016)